Himalayan Serow: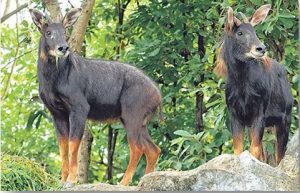 Himalayan serow was spotted in the Manas Tiger Reserve in Assam. It was spotted close to the border with Bhutan in Manas's Bansbari-Mathanguri forest.
The Himalayan serow is a subspecies of the mainland serow native to the Himalayas.
Common name: Himalayan Serow
Scientific name: Capricornis sumatraensi thar.
Local name: Jingal, Yemu.
Description: An appearance of a goat with a long, donkey-like ears, and a habit of standing with forelegs astraddle, make the Serow and ungainly goat antelope. Its coarse coat(long hair longer than the Goral) varies from black to red.
IUCN status: Near threatened.
It is listed in CITES Appendix I.