Justice Clock: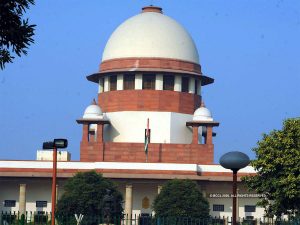 Supreme Court e-Committee chairperson and SC judge Justice DY Chandrachud inaugurated two digital services for Gujarat High court — a 'Justice Clock', and electronic payment of court fee.
An LED display of 7 feet by 10 feet, placed at a height of 17 feet from the ground, has been erected at a busy crossroad near the Gujarat High Court premises.
This 'Justice Clock' will exhibit vital statistics of the justice delivery system in Gujarat, to "maximise outreach and visibility" of the work done by the state judiciary.
The interface has been designed and developed in-house and will display data from the National Judicial Data Grid (NJDG) in real-time.
A similar format of Gujarat judiciary-related statistics will also be available on the Gujarat HC website under a tab of 'Virtual Justice Clock', accessible to all.
While the online e-Courts fee system was already available for the Gujarat High Court, which was tested on a pilot basis allowing advocate and parties to procure judicial stamps online through electronic payment and upon submission of a PDF receipt, this platform now stands expanded to all district and taluka courts.
The payment platform is of StockHolding Corporation of India Ltd (SHCIL) as empanelled by the Gujarat government.
A PDF receipt of the fee paid will be generated and submitted to the court registry concerned.
It will then be verified from within the digital case information system and locked as 'consumed', wherein the receipt will be defaced, so as to avoid its reuse or misuse.