What Is Khalistan Movement?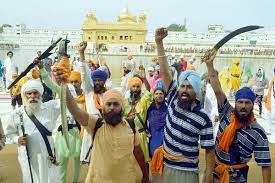 Khalistan flags were found tied on the main entrance gates and walls of Himachal Pradesh legislative assembly recently.
Slogans were also written on the walls of the assembly complex.
The flags have now been removed by the administration.
It is the fight for a separate Sikh state and owes its origins to the Punjabi Suba Movement.
The Akali Dal – a Sikh-dominated political party – sought to create a separate Sikh Suba or Province.
When the States Reorganization Commission, constituted to assess the demand for separate states by linguistic groups, made its recommendations, it rejected the Akali Dal's demand.
The state was trifurcated into Punjabi-majority Punjab, Hindi-majority Haryana and the Union Territory of Chandigarh. Some hilly regions of the state were merged into Himachal Pradesh.