Mega Defence Event East Tech 2023: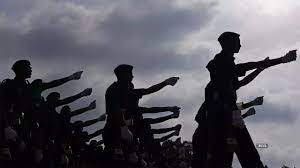 The Eastern Command of the Indian Army is organizing a significant defence event, "East Tech 2023," to showcase the latest defence technologies.
"East Tech 2023" aims to identify cutting-edge technologies that can address operational challenges in the Eastern Sector and enhance self-reliance in defence technology.
"East Tech 2023" Facilitate the Eastern Command in meeting operational challenges through indigenous technology.
Promote "Atma Nirbhar Bharat" (self-reliant India) by engaging Indian manufacturers, including MSMEs, DRDO, DPSUs, R&D organizations, and academia.
It Provide a platform for startups and defence industry players from Assam and other Northeastern states to showcase their innovations.
It Create awareness of contemporary defence technologies and hardware solutions.
It Strengthen the integration of North East defence manufacturers into supply chains.
It will Focus on battlefield transparency, command and control architecture, communication systems, information dominance, electronic warfare, nano technology, artificial intelligence, unmanned warfare systems, mobility, CBRN defence, advanced weapon systems, survival systems, and non-lethal weapons.