Punjab Suba Movement: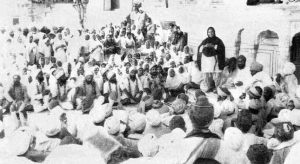 The Shiromani Gurdwara Parbandhak Committee (SGPC) commemorated the first entry of a police force inside the Golden Temple on 4th July, 1955 during the Punjab Suba movement (Morcha).
It started in Punjab soon after Independence. Shiromani Akali Dal (Political Party) was leading the movement for a Punjabi speaking state.
However, there was also opposition to this idea.
Those in favour of the demand used to raise the slogan Punjabi Suba Amar Rahe and those opposing the demand were raising slogans in favour of 'Maha-Punjab'.
It was in April, 1955 that the government banned the slogans fearing law and order problems under section 144 of the Code of Criminal Procedure (CrPC).
The demand for creation of Punjabi Suba automatically gave basis to the demand for having a separate state of Haryana.
Demand of the Movement: A Punjabi speaking state which will have Punjabi speaking areas' population.
There should be no attempt to temper for increasing or decreasing its size artificially. The Punjabi speaking state will be under the Indian Constitution.