Today Current Affairs: 5th March 2021 for UPSC IAS exams, State PSC exams, SSC CGL, State SSC, RRB, Railways, Banking Exam & IBPS, etc
Municipal Performance Index (MPI) 2020: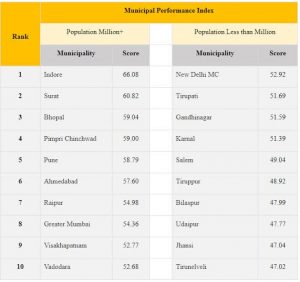 Minister of Housing and Urban Affairs announced the release of the final rankings of Municipal Performance Index (MPI) 2020.
In the Million+ category, Indore has emerged as the highest-ranked municipality, followed by Surat and Bhopal.
In the Less than Million category, New Delhi Municipal Council has emerged as the leader, followed by Tirupati and Gandhinagar.
The MPI examined the sectoral performance of 111 municipalities (with Delhi being assessed separately for NDMC and the three Municipal Corporations) across five verticals which comprise 20 sectors and 100 indicators in all totality.
The five verticals under MPI are Services, Finance, Policy, Technology, and Governance.
QS World University Rankings 2021: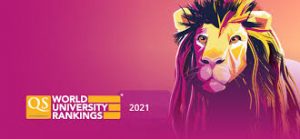 As many as 25 courses by Indian universities have figured in the top 100 globally, according to QS World University Rankings by Subject.
Three Indian Institutes of Technology have entered the top 100 engineering institutes with IIT-Bombay grabbing the best-ever 49th position in the engineering and technology category followed by IIT Delhi (54) and IIT Madras (94). MIT, USA has retained its top position.
Indian Institute of Science (IISc), Bangalore that secured the number one position in the NIRF 2020 is placed at the 92nd spot for natural sciences, followed by IIT Bombay (114), IIT Madras (187), and IIT Delhi (210).
Similarly, IIT-Madras is at number 30 for its petroleum engineering program, IIT-Bombay and IIT-Kharagpur have grabbed 41 and 44 positions, respectively, in the subject ranking for mineral and mining engineering.
In the life sciences and medicine category, the All India Institute of Medical Sciences (AIIMS) bagged 248th spot.
Jawaharlal Nehru University (JNU) has been ranked 159th for arts and humanities, followed by the University of Delhi (252).
Also, Delhi University bagged the 208th spot worldwide in the social sciences and management category.
QS World University Rankings by subject calculate performance based on four parameters —
academic reputation, employer reputation, research impact (citations per paper), and the productivity of an institution's research faculty.
The QS rankings offer independent data on the performance of 253 programs at 52 Indian higher education institutions, across 51 academic disciplines.
CERAWeek Global Energy and Environment Leadership Award: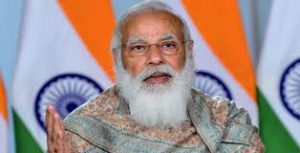 Prime Minister Narendra Modi will receive the CERAWeek Global Energy and Environment Leadership Award at the Cambridge Energy Research Associates Week (CERAWeek) 2021 on 5th March via video conferencing.
CERAWeek was founded in 1983 by Dr. Daniel Yergin.
It has been organized in Houston in March every year since 1983 and is considered the world's premier annual energy platform.
CERAWeek 2021 is being convened virtually from 1st March to 5th March 2021.
CERAWeek Global Energy and Environment Leadership Award was instituted in 2016.
It recognizes the commitment of leadership to the future of global energy & environment and for offering solutions and policies for energy access, affordability & environmental stewardship.
Food Waste Index Report 2021: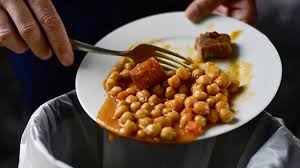 The United Nations Environment Programme (UNEP) released the Food Waste Index Report 2021.
It has revealed that 17% of all food available at the consumer level (11% in households, 5% in foodservice and 2% in retail) was wasted in 2019 and around 690 million people had to go hungry.
About the Report:
It presents the most comprehensive food waste data collection, analysis, and modelling to date, generating a new estimate of global food waste.
It also publishes a methodology for countries to measure food waste, at household, foodservice, and retail levels, to track national progress towards 2030.
In contrast to the Food Loss Index, the Food Waste Index measures total food waste (rather than loss or waste associated with specific commodities).
Findings:
This report estimates that around 931 million tonnes of food waste were generated in 2019.
61% of which came from households, 26% from foodservice and 13% from retail.
Food waste generation is found to be equally relevant across all income countries such as high, upper‑middle and lower-middle-income countries.
Developed Countries like Austria produce very low amounts of waste at 39 kg/capita/year. On the other hand, countries like Nigeria are producing waste at 189 kg/capita/year. For India, the waste in kg/capita/year was 50.
This diverges from earlier narratives concentrating consumer food waste in developed countries, and food production, storage and transportation losses in developing countries.
Global food waste data availability is currently low, and measurement approaches have been highly variable.
Setting Up Fast-Track Courts: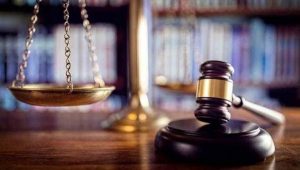 A Constitution Bench of the Supreme Court has proposed setting up fast-track courts for a limited time to clear dishonoured cheque cases.
Earlier the Supreme Court has suggested forming a committee to resolve the problem of pendency of cheque bounce cases.
Supreme Court Proposal: Set up fast-track courts under Section 138 of the Negotiable Instruments Act, 2018.
Power to establish additional courts: The government has both power and an obligation under Article 247 of the Constitution to set up "additional courts" to better the administration of laws enacted by Parliament, including the Negotiable Instruments Act, which deals with cheques.
Article 247: It gives power to Parliament to establish certain additional courts for the better administration of laws made by it or of any existing laws with respect to a matter enumerated in the Union List.
Pendency of Dishonoured Cheque Cases: The pendency of cheque bounce cases forms 30% to 40% of the backlog in trial courts and a sizable chunk of the pile-up in High Courts.
According to the Economic Survey 2018-19, there are about 3.5 crore cases pending in the judicial system, especially in the district and subordinate courts.
About 87.54% of the total pendency of cases is in the district and subordinate courts.
More than 64% of all cases are pending for more than 1 year.
The average disposal time for civil and criminal cases in Indian District & Subordinate courts in 2018 was 4.4 fold and 6 fold higher respectively when compared with the average of Council of Europe members (2016).
A Case Clearance Rate of 100% (i.e. zero accumulation) can be achieved with the addition of merely 2,279 judges in the lower courts, 93 in High Courts, and only one in the Supreme Court, which is already within sanctioned strength and only needs filling of vacancies.
Technology And Innovation Report 2021: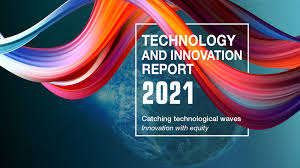 India was the biggest 'overperformer' in frontier technologies than the country's per capita Gross Domestic Products (GDP) would suggest, according to a recent country-readiness index of the Technology And Innovation Report 2021.
The report was released by the United Nations Conference on Trade and Development (UNCTAD).
The report examines the likelihood of frontier technologies widening existing inequalities and creating new ones.
It also addresses the national and international policies, instruments and institutional reforms that are needed to create a more equal world of opportunity for all, leaving no one behind.
Frontier Tech Market: The report shows that frontier technologies already represent a USD 350 billion market, which could grow to USD 3.2 trillion by 2025.
It calls for strengthened international cooperation to build innovation capacities in developing countries, facilitate technology transfer.
Envisages increase women's participation in digital sectors, conduct technological assessments, and promote an inclusive debate on the impact of frontier technologies on sustainable development.
India's actual index ranking is 43, while the estimated one based on per capita income is 108.
This meant that India overperformed other countries by 65 ranking positions.
India was followed by the Philippines, which overperformed by 57 ranking positions.
India performed well in research and development.
This is reflected in its abundant supplies of qualified and highly skilled human resources available at a comparatively low cost.
However, countries such as the United States, Switzerland, and the United Kingdom were "best prepared" for frontier technologies.
CSIR Floriculture Mission: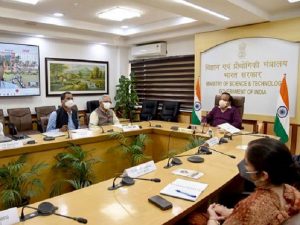 CSIR Floriculture Mission has been approved for implementation in 21 States/UTs wherein available knowledgebase in CSIR Institutes will be utilized and leveraged to help Indian farmers and industry re-position itself to meet the import requirements.
Floriculture, or flower farming, is a discipline of horticulture concerned with the cultivation of flowering and ornamental plants for gardens and for floristry, comprising the floral industry.
This Mission is being implemented in collaboration with the Indian Council of Agricultural Research (ICAR)-Directorate of Floriculture; KVIC; APEDA, TRIFED; Fragrance and Flavour Development Centre (FFDC), Kannauj, Ministry of MSME and Universities.
Despite the fact that India has diverse agro-climatic and edaphic conditions, and rich plant diversity, it shares only 0.6 % of the global floriculture market.
At least 1200 million USD worth of floriculture products is being imported by India every year from different countries".
CSIR's Societal Portal:
Harsh Vardhan also launched CSIR's Societal Portal along with the Android App.
This portal has been developed by CSIR Team with the help of the MyGov Team.
The Portal is to facilitate the public to submit the societal problems that can be resolved using S&T interventions.
Ease Of Living Index (EoLI) 2020: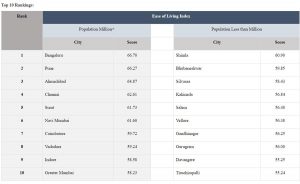 Minister of Housing and Urban Affairs announced the release of the final rankings of the Ease of Living Index (EoLI) 2020.
The EoLI aims to measure the well-being of Indian citizens in 111 cities, across the pillars of Quality of Life, Economic-ability, and Sustainability, with 49 indicators under 13 categories.
The EoLI 2020 strengthens its scope by consolidating the framework with the addition of a Citizen Perception Survey in the index, holding a weightage of 30%.
The rankings under Ease of Living Index 2020 were announced for cities with a population of more than a million, and cities with less than a million people.
Bengaluru emerged as the top performer in the Million+ category.
In the Less than Million category, Shimla was ranked the highest in ease of living
India Bangladesh: Bilateral meet: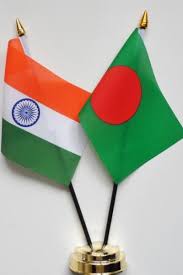 Recently, India's External Affairs Minister visited Bangladesh for a bilateral meet.
This meeting comes ahead of the Indian Prime Minister's visit to Bangladesh scheduled in March 2021.
Earlier a 122-member contingent of the Bangladesh Armed Forces has participated in the 72nd Republic Day parade, commemorating 50 years of the 1971 India-Pakistan war that led to the liberation of Bangladesh.
This meeting comes ahead of the Indian Prime Minister's visit to Bangladesh scheduled in March 2021.
Earlier a 122-member contingent of the Bangladesh Armed Forces has participated in the 72nd Republic Day parade, commemorating 50 years of the 1971 India-Pakistan war that led to the liberation of Bangladesh.
Bangladesh's Stand:
Resolution of Problems: Problems between neighbouring countries should be resolved through discussions and negotiations.
Need to focus on possible ways to materialise commitments and accommodate each other's priorities in a mutually beneficial manner.
Bangladesh acknowledged the collaborative initiative of the two countries in implementing the vaccination programme against the ongoing pandemic.
Bangladesh is the largest recipient of 9 million doses of Made in India vaccine.
Both countries are committed to expanding their relationship in all dimensions, ranging from security, trade, transport and connectivity, culture, people-to-people ties, energy, joint development of our shared resources and defence.
India's Stand:
Bangladesh has been on the United Nations (UN) Least Developed Countries list since 1975.
Bangladesh fulfilled all the criteria necessary for its elevation to a developing country in 2018.
Therefore the UN has recommended the graduation of Bangladesh from the category of Least Developed Country (LDC).
Once it receives the final recommendation, Bangladesh will formally graduate to the developing nation bracket in 2026.