United State International Anti-Corruption Champions Award: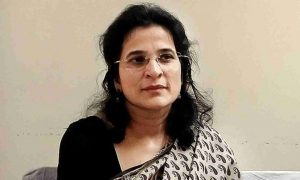 An Indian social activist, Anjali Bhardwaj, who works on issues of transparency and accountability has been selected for the "United State International Anti-Corruption Champions Award" along with the other 11 anti-corruption champions. These names were announced by the Joe Biden administration.
Biden administration is of the view that these issues can be tackled only by working in coordination with the committed partners.
These partners could be:

Courageous individuals, who champion the anti-corruption efforts and
Countries, which are working to fulfil their commitments with respect to the international anti-corruption standards.

Thus, this new International Anti-Corruption Champions Award was announced that recognized individuals who have worked tirelessly against transparency & corruption in order to ensure accountability in their own countries.
Anjali Bhardwaj:
She is a 48-year-old activist who is also the founder of 'Satark Nagrik Sangathan (SNS)'.
SNS is a citizens' group that promotes transparency and accountability in government and also encourages the active participation of citizens.
She has also served as an active member in the "Right to Information Movement" in India.
She is a convener of the National Campaign for People's' Right to Information. This campaign resulted in the establishment of an anti-corruption ombudsman and the Whistleblowers' Protection Act.