World's Largest Stadium In Gujarat: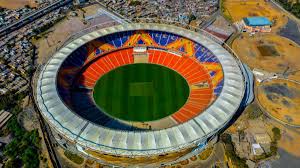 The President of India, Ram Nath Kovind, has inaugurated the world's largest Stadium at Motera, in Gujarat on February 24, 2021.
The Motera stadium was later renamed as the Narendra Modi Stadium.
This stadium has surpassed the Melbourne Cricket Ground and became the largest stadium in the world.
This stadium is going to make history by hosting the second home pink-ball test match on February 24 between India and England.
The newly built stadium was built by equipping all the modern facilities and technologies which is required for present-day cricket.
It comprises of four dressing rooms which is required nowadays for hosting twenty-twenty matches back-to-back.
The stadium was built in over 63 acres.
It has a seating capacity of 1.10 lakh people surpassing the seating capacity of 90,000 people by the Melbourne stadium.
It was built at an estimated cost of Rs. 800 crores.
It was constructed by Larsen & Toubro.
The stadium also comprises 76 corporate boxes with a seating capacity of 25 each.
Apart from that, it has an indoor academy, an Olympic level swimming pool, four dressing rooms for athletes, GCA clubhouse, and food courts.
This is the first stadium that uses both colored clay for the practice and main pitches.