Lilavati Awards 2020: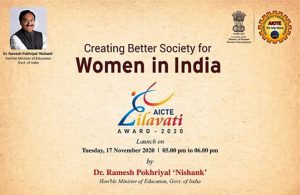 Union Minister of Education Shri Ramesh Pokhriyal 'Nishank' presented the AICTE Lilavati Awards 2020 on women empowerment to the winners.
With women empowerment as the theme, the objective of the award is to create awareness about issues like sanitation, hygiene, health, nutrition, literacy, employment, technology, credit, marketing, innovation, skill development, natural resources, and rights among women.
All India Council for Technical Education (AICTE) has established the Lilavati Award.
The award covers multidisciplinary areas such as women's health, self-defense, sanitation, literacy, entrepreneurship, and legal awareness.
The program will ensure the participation of women and enable them to hold higher positions in educational institutions.
It is named after the 12th-century mathematical treatise "Lilavati" devoted to arithmetic and algebra written by the Indian mathematician Bhāskara II.
In the book, the author posed, in verse form, a series of problems in (elementary) arithmetic to Lilavati (perhaps his daughter) and followed them up with hints to solutions.