World's Highest Railway Bridge: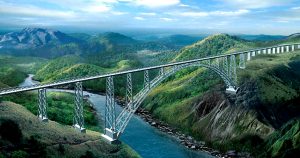 It is being constructed over the Chenab river in Jammu and Kashmir.
The ₹1,250-crore bridge will be 359 meters above the Chenab river bed.
The rail line is expected to be 35 metres taller than the Eiffel Tower.
Once completed, it will surpass the record of the Beipan river Shuibai railway bridge (275 m) in China.