World Hepatitis Day 2023: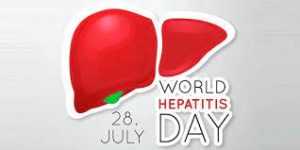 World Hepatitis Day was recently observed on July 28
World Hepatitis Day is observed each year on July 28 to raise awareness of viral hepatitis, which causes inflammation of the liver that leads to severe disease and liver cancer.
It is recognized by the World Health Organization (WHO).
The theme for World Hepatitis Day 2023 is "We're not waiting". This theme highlights the need for urgent action to eliminate viral hepatitis by 2030.
July 28 is the birthday of Dr. Baruch Blumberg (1925–2011).
Blumberg discovered the hepatitis B virus in 1967, and 2 years later, he developed the first hepatitis B vaccine.
These achievements culminated in Dr. Blumberg winning the Nobel Prize in Physiology or Medicine in 1976.
Hepatitis:
Hepatitis is inflammation of the liver.
Inflammation is swelling that happens when tissues of the body are injured or infected.
It can damage your liver.
This swelling and damage can affect how well your liver functions.
Hepatitis can be an acute (short-term) infection or a chronic (long-term) infection.
There are different types of hepatitis, with different causes:
Viral hepatitis is the most common type. It is caused by one of several viruses — hepatitis viruses A, B, C, D, and E.
Alcoholic hepatitis is caused by heavy alcohol use.