Chemical Weapons: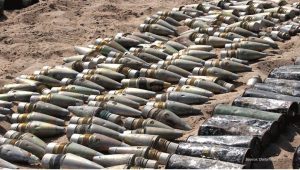 Organization for the Prohibition of Chemical Weapons (OPCW) has told the United Nations Security Council that it investigated 77 allegations against Syria, and concluded in 17 cases chemical weapons were likely or definitely used.
Syria was pressed to join the chemical weapons convention in 2013 by its close ally Russia after a deadly chemical weapons attack that the West blamed on Damascus.
In 2014, President Bashar al-Assad's government declared that the destruction of its chemical weapons was completed.
But Syria's initial declaration to the OPCW has remained in dispute.
In April 2021, the OPCW suspended Syria's rights until all outstanding issues are resolved.
Organisation For The Prohibition Of Chemical Weapons (OPCW)
OPCW is an intergovernmental organization and the implementing body for the Chemical Weapons Convention, which entered into force on 29 April 1997.
Mandate: It oversees the global endeavor to permanently and verifiably eliminate chemical weapons.
Headquarters: The Hague, Netherlands.
Member states 193 (All states party to the CWC are automatically members. 4 UN Member States are non-members: Egypt, Israel, North Korea, and South Sudan. Of these Israel signed CWC but didn't ratify it, the rest 3 are non-signatories).
Nobel Peace Prize: The organisation was awarded the 2013 Nobel Peace Prize "for its extensive efforts to eliminate chemical weapons with most recent being in Syria civil war".
The OPCW–The Hague Award: It is an annual award founded by the OPCW as a result of their being presented with the 2013 Nobel Peace Prize.
The Award honors individuals and institutions that have significantly contributed towards the goal of a world free of chemical weapons.