Liptako-Gourma Charter: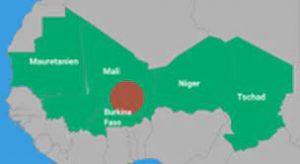 The military leaders of Mali, Burkina Faso, and Niger signed a mutual defence pact, the Liptako-Gourma Charter, in Mali's capital, Bamako.
Liptako-Gourma Charter establishes the Alliance of Sahel States (AES).
Its aim is to "establish an architecture of collective defence and mutual assistance for the benefit of the population.
This alliance will be a combination of military and economic efforts between the three countries.
The charter binds the signatories to assist one another, including militarily — in the event of an attack on any one of them.
It also binds the three countries to work to prevent or settle armed rebellions.
Liptako-Gourma region is the region where the Mali, Burkina Faso, and Niger borders meet.
It has been ravaged by jihadist insurgency in recent years.
The junta leaders of Mali, Burkina Faso and Niger signed a charter to establish a defence alliance known as the Alliance of Sahel States.
Under this alliance, any attack on one or more signatory states will be considered an attack on all signatories.
The alliance between three West African states, all ruled by military juntas and former French colonies.