ULLAS Initiative : Launched Logo And slogan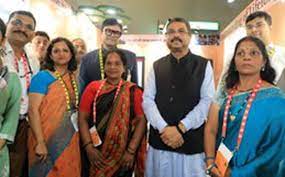 The Union Minister of Education launched the logo, slogan-Jan Jan Sakshar and mobile application of ULLAS in New Delhi.
The Understanding Lifelong Learning for All in Society (ULLAS) initiative is poised to revolutionise education and literacy across the nation.
It is done by fostering a learning ecosystem that reaches every individual, bridging the gaps in basic literacy and critical life skills.
It imparts basic education, digital and financial literacy and critical life skills to citizens aged 15 and above who lost on the opportunity to go to school. It is being implemented through volunteerism.
Slogan of the Initiative: ULLAS: Nav Bharat Saksharta Karyakram.
For this purpose ULLAS app was launched which is user-friendly and interactive app available both on android and ios.
It will serve as a digital gateway for learners to engage in diverse learning resources through the DIKSHA portal of NCERT.
The ULLAS app can be used for registration of learners and volunteers either through self-registration or by surveyors.