World Rhino Day 2023: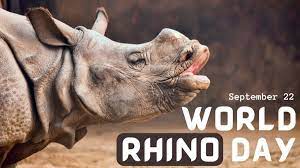 World Rhino Day is observed on 22nd September.
World Rhino Day 2023 observed on 22th September.
Objective is to spread awareness for all five species of rhino and the work being done to save them.
It was first announced by WWF-South Africa in 2010.
This special day provides the opportunity for cause-related organizations, NGOs, zoos, and members of the public to celebrate rhinos in their own unique ways.
The scientific name and conservation status of the five species are: –

Javan Rhinos (Rhinoceros sondaicus): Critically Endangered
Sumatran rhinos (Dicerorhinus sumatrensis): Critically Endangered
Black rhinos (Diceros bicornis): Critically Endangered
White rhinos (Ceratotherium simum): Near Threatened (Southern white rhino)
Greater One-Horned Rhinos (Rhinoceros unicornis): Vulnerable
Indian One-Horned Rhino:-
The greater one-horned rhino (or "Indian rhino") is the largest of the rhino species.
Distribution: Nepal, Bhutan, Pakistan, and Assam, India.
The greater one-horned rhino is identified by a single black horn about 8-25 inches long and a grey-brown hide with skin folds, which gives it an armour-plated appearance.
The species is solitary, except when adult males or rhinos nearing adulthood gather at wallows or to graze.
Conservation Status:-

IUCN Red List: Vulnerable.
CITES: Appendix-I
Wildlife Protection Act, 1972: Schedule I.