Sloth bear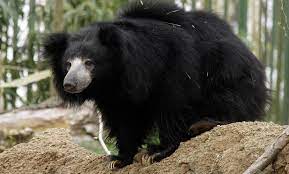 Two sloth bears were rescued by forest officials from a village in Jharkhand by the People for Animals group.
The People for Animals (PFA) is an animal welfare organization founded by Maneka Gandhi.
The PFA was informed by Madaris. Madaris is a nomadic community that earns a living by performing street acts with animals.
Sloth bears are found in Sri Lanka, India, Bhutan and Nepal, predominantly in lowland areas.
Sloth bears primarily eat termites and ants, and unlike other bear species, they routinely carry their cubs on their backs.
They are also very fond of honey, hence their alternative name of "honey bear".
Sloth bears do not hibernate.
Scientific Name: Melursus ursinus
Habitat: It is a forest-dwelling member of the family Ursidae (comprises 8 species of bears) that inhabits tropical or subtropical regions of India and Sri Lanka.
Protection Status:

IUCN Red List: Vulnerable'
CITES listing: Appendix I
Indian Wildlife Protection Act, 1972: Schedule I

Threats: Habitat loss, poaching for body parts and are sometimes captured for use in performances or hunted because of their aggressive behavior and destruction of crops.