Section 6A Of The Citizenship Act, 1955: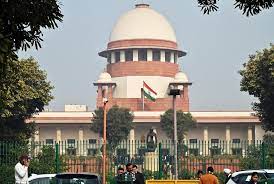 A Constitution Bench led by Chief Justice of India D.Y. Chandrachud said it will first take up for preliminary determination whether Section 6A of the Citizenship Act, 1955 suffers from any "constitutional infirmity".
Section 6A was a special provision inserted into the 1955 Act in furtherance of a Memorandum of Settlement called the 'Assam Accord' signed on August 15, 1985.
The accord was a tripartite agreement between the Centre, the Assam government and the All Assam Students Union, and came after years of protest against perceived demographic change and outsiders in the state.
Section 6A:
It created a special provision for Assam by which persons who entered between January 1, 1966, and March 25, 1971, and who are residing in the state, upon being detected as foreigners, will be allowed to register
Upon registration, such a person will have the same rights and obligations as a citizen of India, but will not be entitled to be included in any electoral roll for a period of 10 years.
Foreigners who had entered Assam before January 1, 1966, and been "ordinarily resident" in the State, would have all the rights and obligations of Indian citizens including the right to vote