World's First Fleet Of Fully Hydrogen-Powered Trains : Germany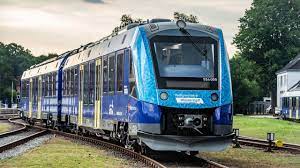 Germany launched the world's first fleet of fully hydrogen-powered trains, these are emissions-free trains that can reach speeds of 140 kilometres per hour and can run about 1,000 km before the tank runs dry.
Hydrogen fuel cells are a clean, reliable, quiet, and efficient source of high-quality electric power.
They use hydrogen as a fuel to drive an electrochemical process that produces electricity, with water and heat as the only by-products.
Hydrogen is one of the most abundant elements on earth for a cleaner alternative fuel option.
It is one of the best Zero Emission solutions.
It is completely environment friendly with no tailpipe emissions other than water.
Tailpipe emissions: Emission of something such as gas or radiation into the atmosphere.
Quiet operation: The fact that the fuel cells make little noise means that they can be used in challenging contexts, such as in hospital buildings.
Easier scaling: Operation times of fuel cells are longer than those of batteries, with fuel cells, only the amount of fuel needs to be doubled to double the operation time, while batteries require the capacity of the components to be doubled to achieve the same.