WTO's New Agreement On Fisheries Subsidies: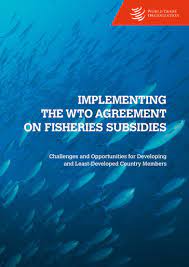 Switzerland has become the first WTO member to formally submit its acceptance of the WTO's new Agreement on Fisheries Subsidies, paving the way for the historic agreement for ocean sustainability to enter into force.
Acceptance of 2/3rd of WTO members is needed for the agreement to come into effect
The Agreement was adopted at WTO's conference in Geneva (2022)
It is the 1st WTO agreement (for the environment) and the 2nd agreement reached at WTO since its inception.
It will prohibit subsidies from being provided for Illegal, Unreported and Unregulated (IUU) fishing, fishing in high seas and overfished stocks.
Developing Countries and Least Developed Countries (LDCs) have been allowed a transition period of two years from the date of entry into force of this Agreement.
Fund for developing and least-developed countries: For technical assistance and capacity building
Exempted Areas:

No prohibition if the WTO Member is not carrying out IUU.
No prohibition on providing subsidies if subsidies are implemented to rebuild the stock to a biologically sustainable level.