Whoosh : Southeast Asia's First High-Speed Railway: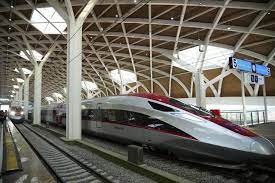 Indonesian President Joko Widodo officially inaugurated Southeast Asia's first high-speed railway marking a significant milestone for the nation's infrastructure development.
The ambitious project, known as the "Whoosh" high-speed railway, is a key component of China's Belt and Road Initiative and is poised to dramatically reduce travel times between two vital Indonesian cities. …
The high-speed railway connects the sprawling metropolis of Jakarta with Bandung, the bustling capital of West Java province.
This transformational rail link is set to reduce the arduous three-hour commute between these cities to a mere 40 minutes, greatly enhancing regional connectivity and facilitating economic growth.