JALDOST Airboat: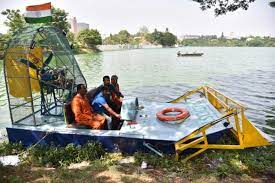 The National Aerospace Laboratories (NAL) unveiled the JALDOST airboat.
JALDOST is an airboat that operates on water.
It is designed to remove excess aquatic weed and floating waste from water bodies.
It has a closed airtight pontoon type hull to make it inherently unsinkable.
According to NAL, it has a hybrid propulsion system, comprising air propulsion and paddle wheel propulsion.
The ability to travel through weed makes JALDOST an ideal platform to collect them and bring them to the shore.
A steel mesh belt conveyor system fixed in the front collects the waste. The collected waste falls on the horizontal deck conveyor.
After reaching the shore, the collected waste is unloaded by a rear conveyor system to trucks or tractors.
NAL has developed two versions of the airboat — JALDOST Mark-1 and an upgraded version JALDOST Mark-2.
National Aerospace Laboratories (NAL)
It is a constituent of the Council of Scientific and Industrial Research (CSIR), India, established in the year 1959.
It is the only government aerospace R&D laboratory in the country's civilian sector.
CSIR-NAL is a high-technology-oriented institution focusing on advanced disciplines in aerospace.
It has several advanced test facilities, and many of them are recognized as National Facilities.
It has provided significant value-added inputs to all the Indian national aerospace programmes.