Youth In India 2022 Report: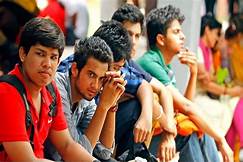 The Ministry of Statistics and Programme Implementation (MoSPI) has released 'Youth in India 2022' Report, which shows that the population share of the youth is starting to decline whereas the share of the elderly is expected to increase during 2021-2036.
A sustained drop in fertility has led to an increased concentration of the population at working ages (between 25 and 64 years) and this shift in the age distribution provides a time-bound opportunity for accelerated economic growth known as the "Demographic Dividend".
Findings of the Report:
Decline in Youth Population: The youth population is expected to increase initially but will start to decline in the latter half of 2011-2036 period.
The total youth population increased from 222.7 million in 1991 to 333.4 million in 2011 and is projected to reach 371.4 million by 2021 and, thereafter, decrease to 345.5 million by 2036.
Proportion of Youth and Elderly Population: Proportion of youth to the total population had increased from 26.6% in 1991 to 27.9% in 2016 and then projected to start a downward trend and to reach 22.7 % by year 2036.
On the contrary, the proportion of elderly population to the total population has increased from 6.8% in 1991 to 9.2% in 2016 and is projected to reach 14.9% in 2036.
Scenario in the States: States such as Kerala, Tamil Nadu and Himachal Pradesh are projected to see a higher elderly population than the youth by 2036.
Bihar and Uttar Pradesh experienced a rise in proportion of youth population to total population till 2021 and then it is expected to start declining.
These two states, along with Maharashtra, Madhya Pradesh and Rajasthan, are projected to have over half (52%) of the country's youth.