Artificial Reef (AR):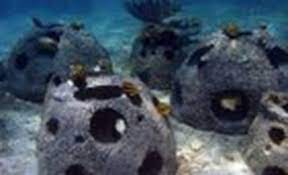 To promote sustainable practises, the Department of Fisheries has sanctioned 732 artificial reef units for 10 coastal states as a sub-activity under the "Integrated Modern Coastal Fishing Villages" of Pradhan Mantri Matsya Sampada Yojana (PMMSY).
Artificial Reefs (AR) is a manmade structure that may mimic some of the characteristics of a natural reef.
These are engineering technology interventions used to rehabilitate and/or improve natural habitats, increase productivity, and manage aquatic resources, including habitat enhancement (FAO, 2015).
Materials used to construct artificial reefs have included rocks, cinder blocks, and even wood and old tyres, which come in an infinite number of shapes and styles.
The projects are being implemented with the technical support of the Fisheries Survey of India (FSI) and ICAR-Central Marine Fisheries Research Institute (CMFRI).
Advantages of AR:

It boosts marine biodiversity.
It encourages fish population growth.
It reduces pressure on natural reefs.
Pradhan Mantri Matsya Sampada Yojana:
It is a flagship scheme for focused and sustainable development of the fisheries sector in the country, with an estimated investment of Rs. 20,050 crores for its implementation during a period of 5 years from FY 2020-21 to FY 2024-25 in all States/Union Territories.
It aims at enhancing fish production by an additional 70 lakh tonnes by 2024-25.
Increasing fisheries export earnings to Rs.1,00,000 crore by 2024-25.
Doubling the incomes of fishers and fish farmers, reducing post-harvest losses from 20-25%.