Yudh Abhyas : India And The United States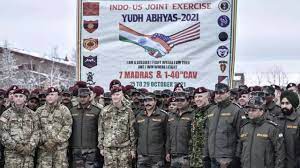 Armies of India and the United States will begin another edition of their joint military exercise 'Yudh Abhyas' at Fort Wainwright in Alaska.
Yudh Abhyas is a joint military exercise conducted annually between the armies of India and USA.
It has been ongoing since 2004.
It is designed to promote cooperation between the two militaries while sharing training, cultural exchanges, and building joint operating skills.
Yudh Abhyas 2023 marks the 19th edition of the joint exercise, which is hosted alternately between both countries.
The training schedule focuses on the employment of an integrated battle group under Chapter VII of the UN Mandate.
The schedule will include all operations related to peacekeeping and peace enforcement.
The joint exercise will also focus on Humanitarian Assistance and Disaster Relief (HADR) operations.
Troops from both nations will practice launching swift and coordinated relief efforts in the wake of any natural calamity.
The exercise will see the employment of the coalition-integrated battle group in the mountain and extreme climatic conditions.
The elements like heliborne or airborne will be employed.