Daily Current Affairs for Government Exams:
Today Current Affairs: 14th September 2020 for UPSC IAS exams, State PSC exams, SSC CGL, State SSC, RRB, Railways, Banking Exam & IBPS, etc
Contents:
Pesticides Management Bill, 2020:
Trans Fats
India's Position-Shift on Taliban:
Hybrid Warfare:
Living Planet Report 2020::
The medium of instruction in school:
Other important current affairs
1.Pesticides Management Bill, 2020:


Experts have warned that few provisions in this bill will hurt farmers' livelihood. Therefore, they have called for wider consultations on the bill and asked it to place it before a select committee.
Key issues highlighted by experts:
It would not allow the manufacture and export of pesticides not registered for use in India even if these are approved in other countries.
The bill will increase the import of formulations and will damage the export of agro-chemicals.
This is against the demands presented by the Ashok Dalwai Committee, constituted in 2018 to promote domestic and indigenous industries and agricultural exports from India.
The committee had recommended reduction in import and dependence on imported formulations.
The bill gives powers to Registration Committee (RC) to subjectively review the registration of a pesticide and then suspend, cancel or even ban its usage.
This would be done without any scientific evaluation.
It also provides for re-registration of pesticides already registered under the erstwhile 1968 Act. This will bring instability to the pesticide industry.
Background:
The Pesticides Management Bill, 2020 was approved by the Union Cabinet in February this year. It will replace the Insecticides Act, 1968.
Key provisions in the Bill:

The Bill will regulate the business of pesticides and compensate farmers in case of losses from the use of agrochemicals.
It will empower farmers by providing them with all the information about the strength and weaknesses of pesticides, the risk, and alternatives. All information will be available openly as data in digital format and in all languages.
The Bill has a unique feature in the form of a provision for compensations in case there is any loss because of the spurious or low quality of pesticides. If required, a central fund will be formed to take care of the compensations.
The Bill also intends to promote organic pesticides.
All pesticide manufacturers have to be registered and bound by the new Act, once it is passed.
The advertisements of pesticides will be regulated so there should be no confusion or no cheating by the manufacturers.
2. Trans Fats: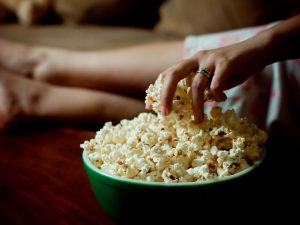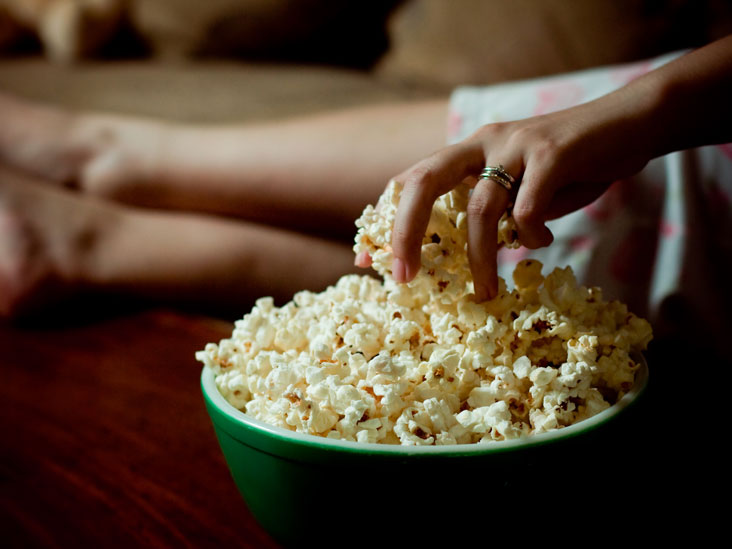 India, Pakistan, Bangladesh, Nepal, and Bhutan were among countries that need to act urgently against trans-fat, the World Health Organization (WHO) has warned.
Industrially produced trans-fats are found in hardened vegetable fats such as margarine and ghee (clarified butter) and are often present in snack foods, baked goods, and fried foods.
The substance is responsible for around 500,000 deaths due to coronary heart disease every year across the world. 15 countries account for two-thirds of the deaths linked to the substance.
It is, however, often used by manufacturers because it has a longer shelf life and is cheaper than other, healthier choices that do not affect taste or cost.
So far, 58 countries introduced laws to protect 3.2 billion people from the substance by the end of 2021. But more than 100 countries still needed to take action to remove trans-fat from their food supply chains.
None of the low-income or lower-middle-income countries have yet implemented best-practice policies, while seven of their upper-middle-income and 33 of their high-income counterparts did so.
Trans fats:
Trans fatty acids (TFAs) or Trans fats are the most harmful type of fats which can have much more adverse effects on our body than any other dietary constituent.
These fats are largely produced artificially but a small amount also occurs naturally. Thus in our diet, these may be present as Artificial TFAs and/ or Natural TFAs.
Artificial TFAs are formed when hydrogen is made to react with the oil to produce fats resembling pure ghee/butter.
In our diet, the major sources of artificial TFAs are the partially hydrogenated vegetable oils (PHVO)/vanaspati/ margarine while the natural TFAs are present in meats and dairy products, though in small amounts
3.India's Position-Shift on Taliban: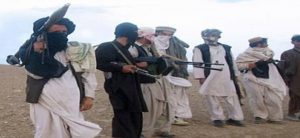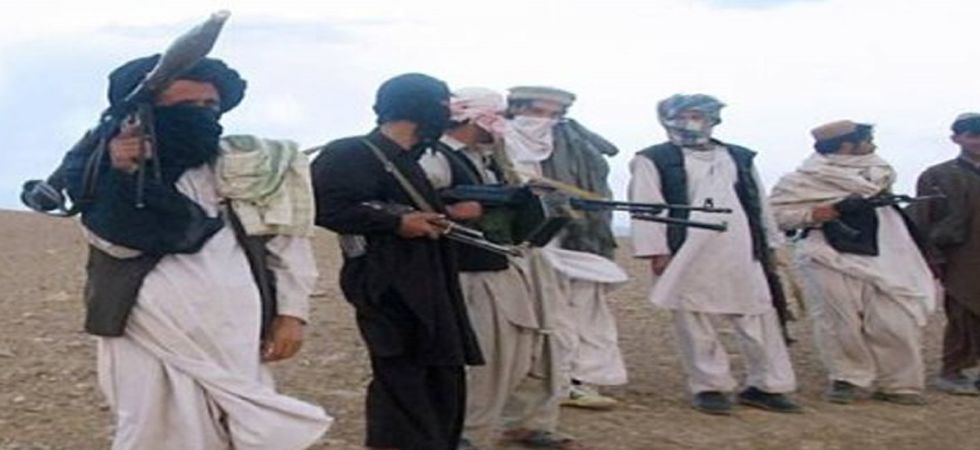 India has signaled a shift in its position on engaging with the Taliban by participating in the commencement ceremony of Intra-Afghan talks between the Afghanistan government and the Taliban in Doha, Qatar.
India's Position Shift:
The Indian presence at the Intra-Afghan peace talks indicates that it has changed its position given the ground reality in Afghanistan and the changing power structure in Afghanistan.
USA's withdrawal has given Pakistan a major role to play in Afghanistan directly or indirectly through its proxies.
However, some experts were of the opinion that India chose to attend the ceremony because the Afghan government was also at the table.
India still does not recognize the Taliban.
India's Stand:
India believes any peace process must be Afghan-led, Afghan-owned, and Afghan-controlled. i.e.
It has to respect the national sovereignty and territorial integrity of Afghanistan and promote human rights and democracy.
It also needs to preserve the progress made in the establishment of the democratic Islamic Republic in Afghanistan.
The interests of minorities, women, and vulnerable sections of society must be preserved and the issue of violence across the country and its neighborhood has to be effectively addressed.
Indian interests, which include the Indian Embassy and Indian companies and workers in Afghanistan, should also be protected.
India supports an "independent and sovereign" Afghanistan.
The use of words "independent and sovereign" make it clear that Pakistan and the Inter-Services Intelligence (ISI) should not control the levers in Afghanistan.
Background:
The USA signed a deal with the Taliban that paved the way towards a full withdrawal of USA troops from Afghanistan and also represent a step towards ending the 18-year-war in Afghanistan.
The peace deal was expected to kick-off two processes- a phased withdrawal of US troops and an 'intra-Afghan' dialogue.
The deal is a fundamental step to deliver a comprehensive and permanent ceasefire and the future political roadmap for the Afghanistan peace process.
4.Hybrid Warfare: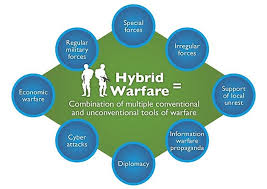 The Chinese company Zhenhua Data Information Technology Co. Limited is monitoring over 10,000 Indian individuals and organizations in its global database of foreign targets.
Zhenhua monitors the digital footprint of its targets using Artificial Intelligence tools across social media platforms, maintains an information library, which includes content not just from news sources, forums, but also from papers, patents, bidding documents, even positions of recruitment.
The database of the company called Overseas Key Information Database (OKIDB) has entries from the USA, UK, Japan, Australia, Canada, Germany, and the UAE as well.
Its targets include individuals and institutions in politics, government, judiciary, art and sports, business, technology, media, and civil society.
The Company counts the Chinese government, intelligentsia, and military among its clients.
However, the Chinese government has denied having asked the company to collect or provide data, information, and intelligence stored within other countries' territories for the Chinese government.
This information can be used for strategic and intelligence services of China for hybrid warfare.
The data monitoring by Zhenhua cannot be covered under the Information Technology Rules, 2011, under the IT Act, 2000, as it only covers personal data and not information available freely or accessible in the public domain.
These rules also do not impose any conditions on the use of personal data for direct marketing etc.
Though it emphasizes data collection by consent which is not done by Zhenhua, the law is impossible to enforce in a foreign jurisdiction.
India is yet to have a data protection law for protecting the privacy of individuals and national security.
India-China Relations:
The recent Indo-China conflict due to clashes at the Line of Actual Control and later banning of Chinese apps by India has led to an exponential increase in tension between the two countries. In this scenario, the information assets of Zhenhua can give strategic leverage to China over India.
Hybrid Warfare
It refers to using non-military tools to achieve dominance or damage, subvert, or influence.
These tools include information pollution, perception management, and propaganda.
Background:
By China: In 1999, Unrestricted Warfare, a publication by China's People's Liberation Army, talked about hybrid warfare and the need for a shift in the arena of violence from military to political, economic, and technological.
There have been many recent reports on China's attempts to collect sensitive military, intelligence, or economic information in the USA and Europe through social media.
Hybrid warfare was used in the 2006 Israel-Lebanon War by the Hezbollah group.
It employed a host of different tactics like guerilla warfare, innovative use of technology, and effective information campaigning.
It was also used by Russia against Ukraine in the 2014 annexation of Crimea.
It involved a combination of activities, including disinformation, economic manipulation, use of proxies and insurgencies, diplomatic pressure, etc.
5.Living Planet Report 2020: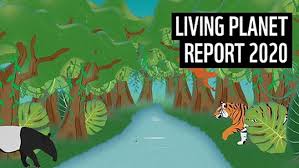 Released by international non-profit World Wide Fund for Nature.
This year's Living Planet Report, a collaboration between WWF International and the Zoological Society of London, is the 13th edition of the biennial publication tracking wildlife populations around the world.
Key findings:
The population of vertebrate species declined by around 68 percent between 1970 and 2016. Living Planet Index was used by the report to calculate this decline.
Wildlife populations in freshwater habitats suffered a decline of 84 percent, equivalent to four percent per year, particularly in Latin America and the Caribbean.
The average two-thirds decline in global populations of mammals, birds, amphibians, reptiles, and fish in less than 50 years in large parts is due to the same environmental destruction, which is contributing to the emergence of zoonotic diseases such as Covid-19.
75 percent of earth's ice-free land has been significantly altered, most of the oceans polluted and over 85 percent area of wetlands lost ~ all due to human activity.
One in five plants is threatened with extinction.
India has a 2.4 percent global land share, about eight percent global biodiversity, and around 16 percent global population
However, it has lost 12 percent of its wild mammals, 19 percent amphibians, and 3 percent birds over the last five decades.
India's ecological footprint per person is less than 1.6 global hectares (gha) / person (smaller than that of many large countries). But, its high population size has made the gross footprint significantly high.
Living Planet Report:
It is published every 2 years by WWF.
It is a comprehensive study of trends in global biodiversity and the health of the planet.
The report presents a comprehensive overview of the state of the natural world through the Living Planet Index (LPI).
Living Planet Index (LPI):
It is a measure of the state of the world's biological diversity based on population trends of vertebrate species in terrestrial, freshwater, and marine habitats.
6. The medium of instruction in school: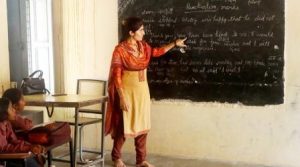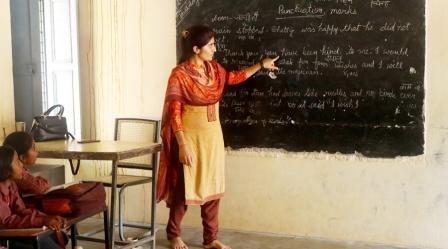 The debates over "imposition of languages", official data point to over 50% of students completing their secondary level of education with one of 12 Indian languages and senior secondary level with one of eight home languages, other than English, as the medium of instruction.
According to the National Statistical Organisation's (NSO) latest report on education, 70% or more students whose home language is Assamese, Bengali and Gujarati completed their school education in these vernacular languages.
However, more students whose mother tongue is Malayalam, Telugu, Manipuri, Punjabi, Urdu, Sindhi, Konkani, or Nepali opted for English as the medium of instruction at least till Class X.
In general, a significant shift towards English as a medium of instruction is seen at senior secondary level- Classes XI and XII.
The NSO survey reveals that 91.1% of students whose mother tongue is the Assamese are learning in their home language at the primary level, the highest for any mother tongue at this level, followed by Odiya at 90.5%.
At the upper-primary or middle school level, 93.7% of the students whose mother tongue is Odiya are learning in their home language, followed by Assamese (89.8%), Bengali (86.5%), and Hindi (81.5%).
The report on "Household Social Consumption: Education", released in July, surveyed 1.13 lakh households spread across over 8,000 villages and 6,000 urban blocks between July 2017 and June 2018.
The National Education Policy 2020 reiterates the three-language formula and suggests medium of instruction in home language at least till Class V.
The RTE Act also suggests that the mother tongue should be considered as a medium of instruction where ever possible
7.LILO (LINE IN LINE OUT) :
Union Power Minister laid the foundation stone for construction of LILO of Kishenganj-Darbhanga 400kV Transmission Line at Saharsa in Bihar.
The execution agency for the ₹ 100 crores worth project is POWERGRID Ltd., a central PSU under the Ministry of Power.
On completion of the Kishenganj-Darbhanga 400kV Transmission Line project, the Power scenario of the Saharsa district including Supaul, Khagaria, and Begusarai districts shall improve.
Saharsa is located in the extreme Northern part of Bihar and is a flood-prone area due to the inflow of water from Nepal.
LILo (Line In Line Out) Substation:
The substation is the part of an electrical supply system which transmits the high voltage from the generating substations to the local distribution networks.
In LILo (Line In Line Out) Substation, a long distribution line is brought in and brought out from the newly created substation as shown below.
This scheme is a bit expensive because of the need for an extra layout.
Other important current affairs:
1. Veteran socialist leader, former Union minister and ex-RJD MP Raghuvansh Prasad Singh, passed away from complications of COVID-19 at age 74.
Raghuvansh Prasad Singh (1946 – 2020) was an Indian politician and was the national vice president of the Rashtriya Janata Dal political party.
He has represented the Vaishali constituency from Bihar in Lok Sabha consecutively for five terms and has been in the Union cabinet for three terms.
He was the Union Cabinet Minister for Rural Development in UPA-I of Manmohan Singh's government and is credited with the conceptualization and implementation of NREGA (National rural employment guarantee act).
2. Hindi Diwas is being celebrated across the country on September 14, 2020.
It was on this day in 1949 that the constituent assembly adopted Hindi written in Devanagari as the official language of the country.
Today, Hindi is one of the widely spoken languages in the world and the first language of more than 520 million people.
3.iRAD stands for Integrated Road Accident Database Project.
The primary purpose of IRAD is to enhance road safety.
Developed by: Indian Institute of Technology-Madras (IIT-M) and will be implemented by the National Informatics Centre.
The IRAD mobile application will enable police personnel to enter details about a road accident, along with photos and videos, following which a unique ID will be created for the incident.
Subsequently, an engineer from the Public Works Department or the local body will receive an alert on his mobile device.
He or she will then visit the accident site, examine it, and feed the required details, such as the road design.
Data thus collected will be analyzed by a team at IIT-M, which will then suggest if corrective measures in road design need to be taken.
Road users will also be able to upload data on road accidents on a separate mobile application.
4. Researchers from Agharkar Research Institute (ARI) have found that the methane hydrate deposits are located in the Krishna-Godavari (KG) basin are of biogenic origin.
Even the lowest estimate of methane present in the methane hydrates in KG Basin is twice that of all fossil fuel reserves available worldwide.
Researchers have also predicted the rate of biogenic methane generation in KG Basin hydrates to be 0.031 millimoles methane/gTOC/Day, resulting in total deposits of methane around 0.56 to 7.68trillion cubic feet (TCF).
Methane:

It is a clean and economical fuel.
On Earth, methane (CH4) is a naturally occurring gas. Most of the methane on Earth is produced in biological processes — some of it by microbes, and some occurring as underground natural gas that had been formed by earlier generations of microbial life.
Many of these methane-producing microbes live in the digestive systems of animals, especially cows.
However, methane can also be produced by abiotic processes (those that do not involve living organisms).
It has been found to occur in formations such as rocks, springs, and aquifers, and studies have concluded that it was formed thereby chemical reactions between carbon and hydrogen atoms at low temperatures.
Once it is released into the atmospheres of either Earth or Mars, methane is relatively short-lived.
Methane concentrations on Earth are over 1,800 parts per million.
5. The United Nations Convention on International Settlement Agreements Resulting from Mediation has come into force.
The convention will provide a more effective way of enforcing mediated settlements of corporate disputes involving businesses in India and other signatories.
The United Nations General Assembly adopted the Convention on 20th December 2018 and it was opened for signature on 7th August 2019 in Singapore.
It is also known as the Singapore Convention on Mediation and also the first UN treaty to be named after Singapore.
Singapore had worked with the UN Commission on International Trade Law, other UN member states, and non-governmental organizations for the Convention.
India approved the signing of the Convention in July 2019.
As of 1st September 2020, the Convention has 53 signatories, including China and the USA as well.
6. Framework on Defense and Security Relationship has been signed between the USA and the Maldives.
The move is seen as consistent with the growing alignment of the USA and Indian interests in the Indian Ocean Region (IOR) and Indo-Pacific.
The Framework intends to deepen engagement and cooperation in support of maintaining peace and security in the Indian Ocean.
It marks an important step forward in the defense partnership between the USA and the Maldives, where both of them agreed to reiterate their commitment to a free and open Indo-Pacific that promotes the security and prosperity of all nations in the region.
The Framework outlines a range of bilateral activities, including senior-level dialogues, engagements, etc. in areas such as maritime domain awareness, natural disasters, and humanitarian relief operations.
India has not officially responded to the announcement of the framework yet.
This announcement can be seen as a timely signal to China, particularly when Indian and Chinese soldiers are locked in a stand-off at the Line of Actual Control (LAC) in Ladakh.
7. The monsoon session of Parliament began after several months which was delayed due to the Covid-19 pandemic.
However, the government has suspended Question Hour for the session and has also curtailed the Zero Hour.
Parliament Session:

The President of India is empowered to summon each House of Parliament from time to time.
The maximum gap between two sessions of Parliament cannot be more than six months. That means the Parliament should meet at least twice a year.
A 'session' of Parliament is the period between the first sitting of a House and its prorogation.

There are usually three sessions in a year, viz,

Budget Session (February to May)
Monsoon Session (July to September)
Winter Session (November to December)

The period between the prorogation of a House and its reassembly in a new session is called 'recess'.