Daily Current Affairs for Government Exams:
Today Current Affairs: 19th October 2020 for UPSC IAS exams, State PSC exams, SSC CGL, State SSC, RRB, Railways, Banking Exam & IBPS, etc
Contents:
Myanmar Rohingya:
Israel and Bahrain Diplomatic Ties:
BrahMos supersonic cruise missile:
SLINEX-20: India- Sri Lanka Naval Maritime Exercise:
.Floods occur in Hyderabad:
Other important current affairs
1.Myanmar Rohingya: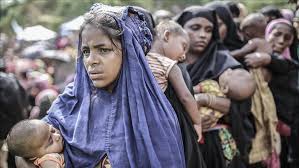 Rohingya described by UN Secretary-General Antonio Guterres as "one of, if not the, most discriminated people in the world", the Rohingya are one of Myanmar's many ethnic minorities.
They numbered around one million in Myanmar at the start of 2017.
They have their own language and culture and say they are descendants of Arab traders and other groups who have been in the region for generations.
The government of Myanmar, a predominantly Buddhist country, denies the Rohingya citizenship and even excluded them from the 2014 census, refusing to recognize them as a people.
It sees them as illegal immigrants from Bangladesh.
In August 2017, a deadly crackdown by Myanmar's army on Rohingya Muslims sent hundreds of thousands fleeing across the border into Bangladesh.
They risked everything to escape by sea or on foot a military offensive which the United Nations later described as a "textbook example of ethnic cleansing".
But the army in Myanmar (formerly Burma) has said it was fighting Rohingya militants and denies targeting civilians.
The country's leader Aung San Suu Kyi, once a human rights icon, has repeatedly denied allegations of genocide.
Amnesty International says the Myanmar military also raped and abused Rohingya women and girls.
A report published by UN investigators in August 2018 accused Myanmar's military of carrying out mass killings and rapes with "genocidal intent".
The ICJ case, lodged by the small Muslim-majority nation of The Gambia, in West Africa, on behalf of dozens of other Muslim countries, called for emergency measures to be taken against the Myanmar military, known as Tatmadaw until a fuller investigation could be launched.
About 860,000 Rohingya live in the world's largest and most densely populated refugee camp in southern Bangladesh.
The Myanmar and Bangladesh governments continue to negotiate terms for the repatriation of Rohingya refugees to Myanmar.
According to the Ministry of Home Affairs, there are approximately 40,000 Rohingyas living in India.
2.Israel and Bahrain Diplomatic Ties: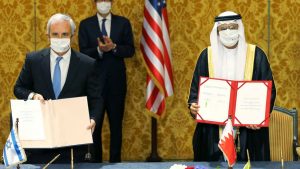 Bahrain and Israel are signing a joint communique on the establishment of diplomatic, peaceful, and friendly relations, as well as a number of memorandums of understanding in areas of mutual benefit.
Bahrain has a history of open politics and civil society movements, although rights have been curtailed in the past decade.
The decision to normalize ties comes from the belief in the values of tolerance in a region whose people have suffered from wars and conflicts.
The United Arab Emirates and Bahrain became only the third and fourth Arab states to agree to normalize ties with Israel, following Israel's 1979 peace deal with Egypt and a 1994 pact with Jordan.
Under the deal, Israel would suspend its plans to annex large parts of the occupied West Bank.
The West Bank is sandwiched between Israel and Jordan. One of its major cities is Ramallah, the de facto administrative capital of Palestine.
Israel took control of it in the Six-day Arab-Israeli war, 1967, and has over the years established settlements there.
Impact on the USA:

This is the second deal in 2020 after the Israel-UAE Peace Deal brokered by the USA. The recognition grants a diplomatic win to the USA President Donald Trump ahead of the Presidential election.
The deal buys UAE a lot of goodwill in the US, where its image has been tarnished by its involvement in the Yemen war.
Saudi Arabia made clear that it will not normalize ties without a resolution to the Palestinian issue despite signs of rapprochement.
3. BrahMos supersonic cruise missile: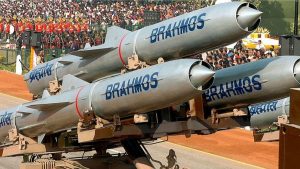 A naval version of the BrahMos supersonic cruise missile was successfully test-fired from an indigenously built stealth destroyer (INS Chennai) of the Indian Navy in the Arabian Sea.
BrahMos: It is a joint venture between the Defence Research and Development Organisation of India (DRDO) and the NPOM of Russia.
Brahmos is named on the rivers Brahmaputra (India) and Moskva (Russia).
It is a supersonic missile travelling at a speed of Mach 2.8 (nearly three times the speed of sound)
It is the world's fastest supersonic cruise missile.
It is a multiplatform i.e it can be launched from land, air, and sea and multi capability missile with pinpoint accuracy that works in both day and night irrespective of the weather conditions.
It is, therefore, used by all three forces, the Army, Navy and the Air Force.
It operates on the "Fire and Forget" principle i.e it does not require further guidance after launch.
It is the heaviest weapon to be deployed on Sukhoi-30 MKI fighter aircraft, with a weight of 2.5 tonnes.
Its range has been recently enhanced from 300 Km to 450-600 Km,
Increasing the missile's range became possible after India's induction into the Missile Technology Control Regime (MTCR) in June 2016.
The missile features indigenous Booster and Airframe Section, along with many other indigenous sub-systems.
Advantages:
BrahMos has been deployed in Ladakh as well as the Eastern Sector in Arunachal Pradesh to tackle any threats in the ongoing standoff with China.
Enhanced use of indigenous technologies will give a boost to India's AtmaNirbhar Bharat.
Increasing indigenous content in defence systems has also been a prime focus of Defence Acquisition Procedure, 2020 and draft Defence Production and Export Promotion Policy 2020.
4.SLINEX-20: India- Sri Lanka Naval Maritime Exercise: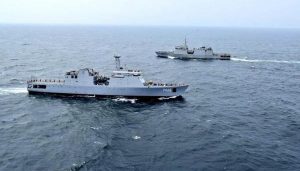 The 8th edition of annual India – Sri Lanka bilateral naval maritime exercise, SLINEX-20 will be held at Trincomalee, Sri Lanka from 19 to 21 October 2020.
The 7th edition of SLINEX was conducted off Visakhapatnam in September 2019.
SLINEX series of bilateral maritime exercises were initiated in 2005.
SLINEX aims to enhance interoperability, improve mutual understanding, and exchange best practices and procedures for multi-faceted maritime operations between both navies.
It exemplifies the deep engagement between India and Sri Lanka which has strengthened mutual cooperation in the maritime domain.
The 2020 Exercise:
In SLINEX-20, the Indian Navy will be represented by Indigenously built ASW corvette Kamorta and Kiltanunder.
Indian Navy Advanced Light Helicopter (ALH) and Chetak helicopters and Dornier Maritime Patrol Aircraft will also be participating.
The Sri Lanka Navy will be represented by SLN Ships Sayura (Offshore Patrol Vessel) and Gajabahu (Training Ship).
The maritime exercise will also showcase capabilities of India's indigenously constructed naval ships and aircraft.
Surface and anti-air exercises including weapon firing, seamanship evolutions, manoeuvres and cross deck flying operations are planned during the exercise, which will further enhance the high degree of interoperability already established between the two friendly navies.
The exercise is being conducted in a non-contact 'at-sea-only' format in the backdrop of Covid-19 pandemic.
5.Floods occur in Hyderabad: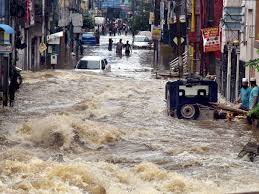 Hyderabad was recently listed as the rainiest place in the country by Skymet, an independent weather forecasting agency, on Sunday after it recorded 72.5mm of rainfall.
The city has witnessed its third wettest day of October in the last 10 years- As per India Meteorological Department (IMD) data, Hyderabad witnessed 98.3mm rainfall on October 10, 2013, and 82.6mm on October 3, 2017.
The IMD data indicates that the city has been pounded with 356mm of rains in 18 days, which is four times higher than the normal rains.
This was caused by weather that formed in the Bay of Bengal, hit the east coast and moved westward, weakening on the way.
Normally, cyclones lose steam upon making their landfall. This particular system, however, clocked a long east-west track cutting across Andhra Pradesh, Telangana, north-interior Karnataka and Maharashtra.
All these states experienced above-normal rain during the recent monsoon season. As a result, the soil in these regions has retained significant moisture content.
In addition, vertical wind shear — the result of a significant difference in wind speed between higher and lower atmospheric levels — helped the system maintain its intensity as deep depression or a well-marked low pressure area even on land.
Floods in hyderabad:
Hyderabad is a system of catchments.
The western edge is in the Godavari river basin.
To the east, it's in the Krishna River basin.
Also, Hyderabad is in the Deccan region, which has a chaotic drainage pattern — the water here does not flow in a single direction as the slope is in multiple directions.
Other important current affairs:
1.Union Minister Nitin Gadkari suggests the formation of a State Water Grid in Maharashtra to overcome the flood crisis in the State.
The State Water Grid will be formed on the lines of the National Power Grid and Highway Grid.
The idea is to divert the floodwater from one river basin to the other river basin in the drought-prone area of the state.
The areas with a shortage of water, scanty rainfall can get relief by the Grid.
Benefits of state water grid:

Help the government to ensure the availability of the water in drought prone areas and save the resources to manage the flood crisis.
This would also help to increase the area under irrigation, while bringing significant reduction in the numbers of suicides of farmers.
This would also help to increase agriculture produce and strengthen the rural and national economy.
The diverted flood waters would relieve the stress on the local resources. Transportation of goods and passengers through rivers (Water Transport) can be commenced in near future.
Fishing and other businesses can flourish alongside and major employment can be generated if such project is taken up as an essential infrastructure.
3.It is a study authored by International Food Policy Research Institute economist Kalyani Raghunathan and others.
Selecting the cheapest options from actual Indian diets — wheat, rice, bajra, milk, curd, onions, radish, spinach, bananas — the study calculated that a day's meals would cost ₹45 (or ₹51 for an adult man).
Three out of four rural Indians cannot afford a nutritious diet. Even if they spent their entire income on food, almost two out of three of them would not have the money to pay for the cheapest possible diet that meets the requirements.
If they set aside just a third of their income for non-food expenses, 76% of rural Indians would not be able to afford the recommended diet. This does not even account for the meals of non-earning members of a household, such as children or older adults.
4. The Union Minister for Environment, Forest and Climate Change has highlighted that the air pollution is not a problem of Delhi and its corporations alone but that of a big airshed around it that includes the National Capital Region (NCR).
Airshed: In geography, an airshed is defined as a region in which the atmosphere shares common features with respect to the dispersion of pollutants; in other words, a region sharing a common flow of air.
With reference to the air pollution in and around Delhi, the airshed includes Gurgaon, Faridabad, Ghaziabad, Noida, areas of Uttar Pradesh, Haryana and even Alwar in Rajasthan.
The Air Quality Index (AQI) of Delhi has improved within the 'poor' category.
As per a forecast from the Central government's System of Air Quality and Weather Forecasting And Research (SAFAR) the AQI is expected to stay in the higher end of 'poor' to the lower end of the 'very poor' category for the following days.
During the lockdowns, Delhi saw among the cleanest air since comprehensive records have been kept since 2015.
5.Prime Minister of India inaugurated 'Ghar Tak Fibre' scheme in Bihar.
It aims to connect all 45,945 villages of Bihar with high-speed optical fiber internet by 31st March 2021.
Under the scheme, Bihar has to provide at least five fibre-to-the-home (FTTH) connections per village and at least one WiFi hotspot per village.
The Scheme will be implemented by the Ministry of Electronics and Information Technology.
The Scheme will lead digital services including e-Education, e-Agriculture, Tele-Medicine, Tele-law, and other social security schemes in Bihar ensuring easy access to all state natives.
It is also likely to boost the local employment generation with the implementation of the Bharat Net initiative which will be done by recruiting local workers.
6.According to a recent report, Chinese pink dolphins are making a comeback in the Pearl River Estuary (PRE).
Indo-Pacific humpback dolphins are also known as Chinese white dolphins or pink dolphins, reflecting the colour of their skin.
Pearl River Estuary includes Hong Kong, Macau as well as the mainland Chinese cities of Shenzhen, Guangzhou, and Dongguan. Around 22 million people live in the area.
The Pearl River Delta, the low-lying area surrounding the PRE where the Pearl River flows into the South China Sea, is one of the world's most densely urbanized, heavily industrialized, and busiest shipping lanes on Earth.
Dolphins use echolocation to find their way in the water and the ships often disturb them in finding their way and even kill them.
Echolocation is a technique used by bats, dolphins and other animals to determine the location of objects using reflected sound.
This allows the animals to move around in pitch darkness, so they can navigate, hunt, identify friends and enemies, and avoid obstacles.
However, dolphin numbers in the waters between Hong Kong and Macau have seen a rebound in 2020 because Covid-19 pandemic has stopped ferries and hence reduced their traffic.
The number of pink dolphins in the waters has roughly increased by a third according to scientists.
7.The Zoological Survey of India (ZSI) brought a study on skinks (a kind of lizard), titled Skinks of India.
Skinks: With 1,602 species of skinks across the world, It is the largest family of lizards, having long bodies, relatively small or no legs, no pronounced neck and glossy scales.
It is found around homes, garages, and open spaces such as sparks and school playgrounds, and around lakes.
Skinks are non-venomous, highly alert, agile and fast-moving and actively forage for a variety of insects and small invertebrates.
They have a prominent role in maintaining ecosystems, however, not much is known about their breeding habits, and ecology because identification of the species can be confusing.
In India skinks are found in all kinds of habitats in the country, from the Himalayas to the coasts and from dense forests to the deserts.
8.In order to address societal challenges through digital innovation, NITI Aayog announced the establishment of a Frontier Technologies Cloud Innovation Centre, CIC with Amazon Web Services, AWS. It is the first of its kind in India.
This CIC is part of the AWS CIC Global Programme which provides an opportunity for government agencies, non-profits and educational institutions, to come together on pressing challenges, apply design thinking, test new ideas, and access the technology expertise of AWS.
The NITI Aayog Frontier Technologies CIC will be a great enabler to budding innovators and start-ups and help in piloting state-of-the-art, cloud-centric digital innovations by leveraging emerging technologies such as AI, IOT and robotics, blockchain.
9.Framework for Regulatory Sandbox IFSCA has introduced a Framework for Regulatory Sandbox to tap into innovative FinTech solutions.
The International Financial Services Centres Authority (IFSCA) has an objective to develop a world-class FinTech hub at the IFSC located at GIFT City in Gandhinagar (Gujarat, India).
Thus, it endeavours to encourage the promotion of financial technologies ('FinTech') initiatives in financial products and financial services across the spectrum of banking, insurance, securities and fund management.
As a step towards attaining this vision, IFSCA has introduced a framework for "Regulatory Sandbox".
Under this Sandbox framework, entities operating in the capital market, banking, insurance and financial services space shall be granted facilities to experiment with innovative FinTech solutions in a live environment with a limited set of real customers for a limited time frame.
These features shall be fortified with necessary safeguards for investor protection and risk mitigation. The Regulatory Sandbox shall operate within the IFSC located at GIFT City.
As an additional step towards creating an innovation-centric ecosystem in the IFSC, IFSCA has proposed the creation of an "Innovation Sandbox"
The Innovation Sandbox will be managed and facilitated by the Market Infrastructure Institutions (MIIs) operating within the IFSC.