Daily Current Affairs for Government Exams:
Today Current Affairs: 6th March 2020 for UPSC IAS exams, State PSC exams, SSC CGL, State SSC, RRB, Railways, Banking Exam & IBPS, etc
Contents:
North-East Venture Fund.
Gender Parity Index: UNESCO:
LLP Settlement Scheme, 2020
Freedom in the World 2020
Swachh Bharat Mission (Grameen):
Initiatives Launched during India Smart Utility Week 2020
The International Criminal Court (ICC),
Solar Charkha Mission
ICONSAT 2020:
Deccan Queen express
Companies (Second Amendment) Bill, 2019
Fuel Cell Technology for Disaster Management:
Mineral Law Amendment Bill passed in Lok Sabha
.Swap Ratio
RBI capped Rs 50,000 as withdrawal limit of YES Bank customers:
Other important current affairs.
1.North-East Venture Fund: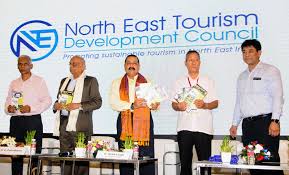 The NEVF (North-East Venture Fund) disbursed over Rs.18 crore to 12 start-ups till date- the information given in Parliament.
North-East Venture Fund (NEVF):
Launched in September 2017.
Set up by North Eastern Development Finance Corporation Limited (NEDFi)in association with Ministry of Development of North Eastern Region (M-DoNER).
It is a close-ended fund with a capital commitment of Rs 100 crore.
It is the first dedicated venture capital fund for the North Eastern Region.
Objective: to contribute to the entrepreneurship development of the NER and achieve attractive risk-adjusted returns through long term capital appreciation by way of investments in privately negotiated equity/ equity-related investments.
The investment under this schemer ranges from Rs. 25 lakh to Rs.10 crore per venture, which is long term in nature with an investment horizon of 4-5 years.
2.Gender Parity Index: UNESCO:
Gender Parity Index in primary, secondary and tertiary education is the ratio of the number of female students enrolled at primary, secondary and tertiary levels of education to the number of male students at each level.
GPI at various levels reflects equitable participation of girls in the School system.
GPI is released by the United Nations Educational, Scientific and Cultural Organization (UNESCO) as a part of its Global Education Monitoring Report.
A GPI of 1 indicates parity between the sexes; a GPI that varies between 0 and 1 typically means a disparity in favor of males; whereas a GPI greater than 1 indicates a disparity in favour of females.
India's GPI for the year 2018-19 at different levels of School Education is as under:

Primary Education: 1.03
Upper Primary Education: 1.12
Secondary Education: 1.04
Higher Secondary Education: 1.04

India's GPI indicates that the number of girls is more than the number of boys at all levels of school Education.
3. LLP Settlement Scheme, 2020: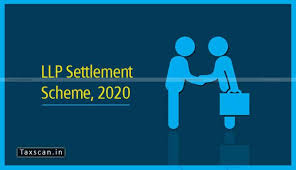 The Central Government has decided to introduce a scheme namely "LLP Settlement Scheme, 2020." The scheme shall come into force on the 16th March 2020 and shall remain in force up to 13th June 2020.
Due to the applicability of additional fees on late filing, a large number of Limited Liability Partnerships (LLPs) have remained non-compliant, mainly on account of their inability to pay late fees for the cumulative period of delay.
Accordingly, the Central Government has decided to introduce a scheme namely "LLP Settlement Scheme, 2020", by allowing a One-time condonation of delay in filing statutorily required documents with the Registrar.
Defaulting LLPs, that wish to avail themselves of the scheme, may file the pending documents/Forms and make good the defaults, to gain immunity from prosecutions for such defaults.
LLP is an alternative corporate business form that gives the benefits of limited liability of a company and the flexibility of a partnership. Hence LLP is called a hybrid between a company and a partnership.
Legislation in India: All limited liability partnership is governed under the limited liability partnership act of 2008. The Corporate Affairs Ministry implements the Act.
4.Freedom in the World 2020: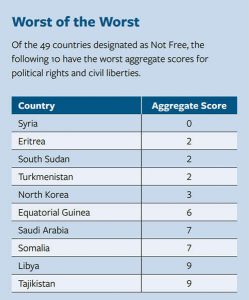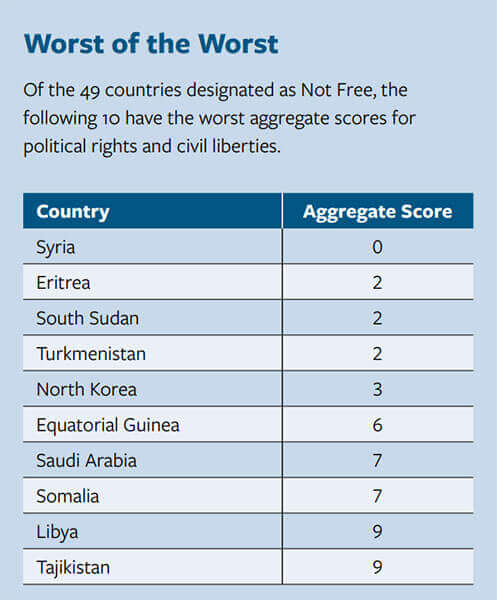 Finland, Norway, Sweden, the Netherlands, and Luxembourg are the top five countries in the free category.
The report has placed India at 83rd position along with Timor-Leste and Senegal among the bottom five of "free democracies".
India witnessed the worst score decline among the world's 25 largest democracies.
India's overall score declined from 75 in 2019 to 71 in 2020, with civil liberties taking the biggest hit.
Background:
Freedom House is a US-based watchdog, which has been tracking global political and civil liberties for almost half a century.
Observations made by the report on India:
India was bogged down by multiple reasons including its Kashmir policy after abrogating Article 370, the National Register of Citizens for Assam, the passage of contentious Citizenship Amendment Act (CAA) and frequent internet shutdowns across the country.
It notes, the government has taken its Hindu nationalist agenda to a new level with a succession of policies that abrogate the rights of different segments of its Muslim population, threatening the democratic future of a country long seen as a potential bulwark of freedom in Asia and the world.
A fierce crackdown on protesters opposing the changes, indicated a deterioration of basic freedoms in the world's largest democracy, says a report.
The report, which treats Kashmir as a separate territory, downgraded the Union territory's status from "partly free" to "not free" due to the Indian government's abrupt revocation of Article 370 in August.
In terms of internet freedom, India fares worse, scoring just 55 and is categorized as "partly free". As per the report, internet freedom has declined for the fourth year in a row in India.
It also highlights the spread of fake news and manipulated content, creating a political divide.
The internet shutdown in Kashmir has no doubt, contributed to India's performance in terms of internet freedom.
Stating that "democracy and pluralism are under assault" across the world, the report highlights the decline of the US and India.
5.Swachh Bharat Mission (Grameen):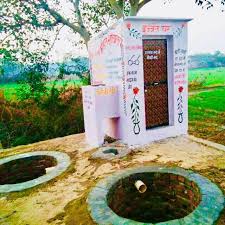 The Union Minister for Jal Shakti released a study done by the UNICEF and Bill and Melinda Gates Foundation (BMGF) on the impact of the SBM(G) on rural women.
Impact of the Swachh Bharat Mission (Grameen) on the convenience, safety, and self-respect of women in rural India  surveyed 6,993 women across the 5 states of Bihar, Madhya Pradesh, Maharashtra, Rajasthan, and Uttar Pradesh, in February 2020
The study indicated that the increased access to household toilets has led to the improvement in the Suvidha, Suraksha, and Swabhimaan of women in rural India.
93% of women feel safer from assault by not going out in the open to defecate
91% of women save up to one hour of their day, earlier spent on walking to defecation sites
88% of women are proud to own a toilet.
6.Initiatives Launched during India Smart Utility Week 2020:
Recently, the India-European Union Flagship Call on Integrated Local Energy Systems was announced at India Smart Utility Week 2020.
Additionally, Sweden and India have also announced the India-Sweden Collaborative Industrial Research & Development Programme during the event.
India Smart Grid Forum (ISFG) has been organizing its flagship annual event, India Smart Grid Week (ISGW) since 2015.
It has been renamed as India Smart Utility Week (ISUW) in 2019.
It is considered as one of the top five international events on Smart Grids and Smart Cities.
ISUW 2020 will be organized as an International Conference and Exhibition on Smart Energy and Water for Smarter Cities.
It will bring together the world's leading smart energy experts and researchers to discuss trends, share best practices and showcase next-generation technologies and products in smart energy and smart cities domains.
7. The International Criminal Court (ICC), :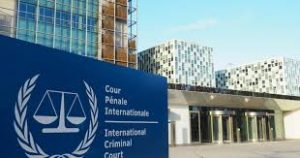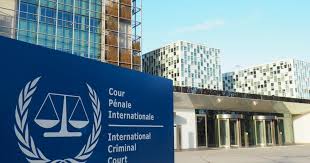 'Unanimous' ICC gives the go-ahead to probe Afghanistan alleged war crimes.
Prosecutors have been given the green light to investigate alleged war crimes and crimes against humanity in Afghanistan – and beyond its borders – linked to Afghan, Taliban and US troops.
The prosecutors alleged in a 2017 report they have enough information to prove U.S. forces "committed acts of torture, cruel treatment, outrages upon personal dignity, rape and sexual violence against conflict-related detainees in Afghanistan and other locations, principally in the 2003-2004 period."
About ICC:
The International Criminal Court (ICC), located in The Hague, is the court of last resort for prosecution of genocide, war crimes, and crimes against humanity.
It is the first permanent, treaty-based, international criminal court established to help end impunity for the perpetrators of the most serious crimes of concern to the international community.
Its founding treaty, the Rome Statute, entered into force on July 1, 2002.
8.Solar Charkha Mission: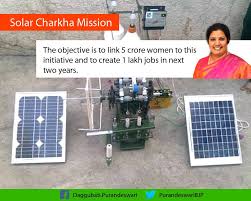 Recently, the Minister for Micro, Small & Medium Enterprises gave information about the Solar Charkha Mission in Lok Sabha.
The Solar Charkha Mission is an enterprise driven scheme and envisages setting up of 'Solar Charkha Clusters' which will have 200 to 2042 beneficiaries (Spinners, Weavers, Stitchers and other skilled artisans).
One cluster would involve a maximum subsidy of Rs. 9.60 crore provided in the form of Capital subsidy for individual and Special Purpose Vehicle (SPV), interest subvention for working capital and capacity building.
These solar charkhas are to be operated using solar power which is a renewable energy source.
It will help in the development of the Green Economy as it is an environment-friendly program.
It will also generate sustainable employment for the artisans.
Background
The Solar Charkha Mission is a Ministry of Micro Small & Medium Enterprises (MSME) initiative launched during June 2018.
A pilot project on Solar Charkha was implemented at Khanwa village, Nawada District of Bihar in 2016.
Based on the success of the pilot project, the Government of India had accorded approval to set up 50 such clusters with a budget of Rs. 550 Crore for 2018-19 and 2019-20.
The scheme is envisaged to generate direct employment nearly to one lakh persons in the approved clusters.
9. ICONSAT 2020: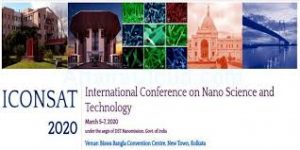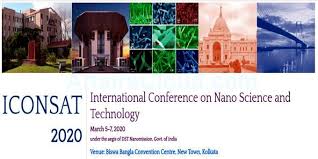 The International Conference on NanoScience and NanoTechnology (ICONSAT) 2020 is being organized from 5th-7th March at Kolkata (West Bengal).
ICONSAT is the series of biennial international conferences held in India under the aegis of Nano Mission, Department of Science and Technology (DST).
The conference intends to bring out cutting-edge developments in the domain of physical, chemical, materials as well as biological sciences with the help of nanotechnology.
The event emphasised on 5Ms – Mechanical, Material, Machines, Manufacturing and Manpower, and integration of these 5 Ms with nano-science and technology.
It also aimed to integrate nanotechnology with sustainable development and new technology (machine learning, artificial intelligence and so on).
It emphasized the need to create a network of experts in nano-science and to collaborate the knowledge across sectors like energy, agriculture, transport, health and so on.
It also aims to provide a potential platform for young researchers and students from within the country and abroad to keep pace with the latest development in the emerging areas of Nano Science and Technology.
10.Deccan Queen express: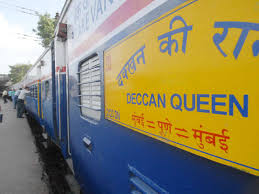 India's Deccan Queen Express will be upgraded to German design Linke Hofmann Busch (LHB) coaches. With the up-gradation to LHB coaches, the train will have better safety features and improved traveling experience better suspension system and better riding comfort.
Indian Railways' Deccan Queen, which has been running between Mumbai and Pune since 1930, is the country's first superfast train.
Deccan Queen is the first long-distance electric-hauled train, the first vestibuled train, the first train to have a 'ladies only' car and the first train to feature a dining car.
It is operated by the Central Railway zone of the Indian Railways.
11.Companies (Second Amendment) Bill, 2019 :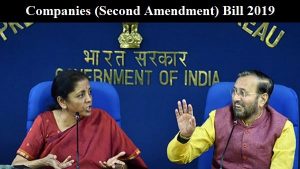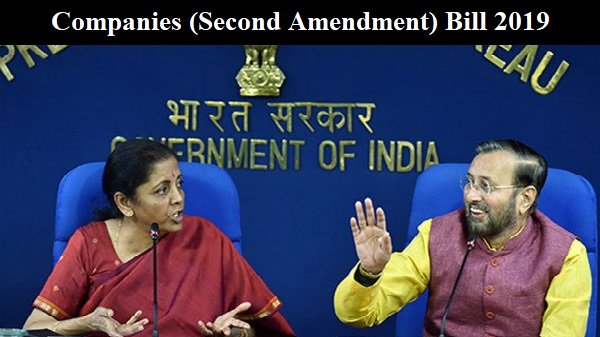 The Union Cabinet has approved the Companies (Second Amendment) Bill, 2019 to amend the Companies Act, 2013.:
The Bill would remove criminality under the Act in case of defaults which can be determined objectively and which, otherwise, lack the element of fraud or do not involve larger public interest.
This would also lead to further de-clogging of the criminal justice system in the country. The Bill would also further ease of living for law-abiding corporates.
Earlier, the Companies (Amendment) Act, 2015 amended certain provisions of the Act to remove difficulties faced in the implementation of various provisions of the Act.
12.Fuel Cell Technology for Disaster Management: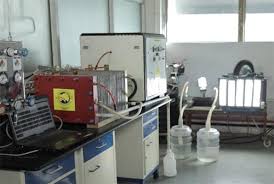 The International Advanced Research for Powder Metallurgy & New Materials (ARCI), Hyderabad has developed Polymer Electrolyte Membrane Fuel Cells (PEMFC).
ARCI is an autonomous Research and Development (R&D) Centre of the Department of Science and Technology (DST).
Polymer Electrolyte Membrane Fuel Cells convert the chemical energy stored in hydrogen fuel directly and efficiently to electrical energy with water as the only byproduct without the need for grid power as required by conventional battery backup systems.
Potential: To reduce energy use, pollutant emissions and dependence on fossil fuels and providing sustainable electricity.
Advantage: Operational capability at low-temperatures with applications in decentralized power generation systems.
The ARCI has developed in-house PEMFC systems in the power range of 1 to 20 kiloWatt (kW) at its Centre for Fuel Cell Technology, Chennai.
ARCI is planning to set up a PEMFC system at Tamil Nadu State Emergency Operation Centre (TN SEOC) as a disaster management measure.
Tamil Nadu is generally affected by five to six cyclones every year, of which two to three are severe.
In general, Emergency Operation Centres (EOC) backed with a 10 kW system along with fuel cell stack, air moving subsystems, power control devices, and control and monitoring system is being planned as a natural disaster management measure.
13. Mineral Law Amendment Bill passed in Lok Sabha: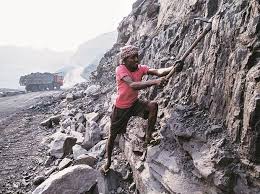 On March 6, 2020, the Lok Sabha passed the Mineral Laws (Amendment) Bill, 2020. The bill aims to amend Mines and Minerals (Development and Regulation) Act, 1957 and also Coal Mines (Special Provisions) Act, 2015.
The bill was passed in the parliament without discussion. This was because of the constant uproar of the opposition over the death of 52 people in the Delhi Violence over Citizenship Amendment Act.
The bill opens up the coal sector completely for commercial mining. It also intends to remove end-use restrictions to participate in coal mine auctions. This will mainly help reduce coal imports.
14.Swap Ratio: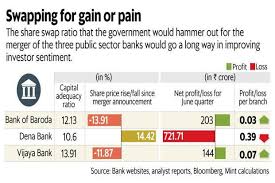 Eight state-owned banks have announced swap ratios for the proposed mergers.
The swap ratio is the ratio at which an acquiring company will offer its own shares in exchange for the target company's shares during a merger or acquisition.
To calculate the swap ratio, companies analyze financial ratios such as book value, earnings per share, profits after tax, and dividends paid, as well as other factors, such as the reasons for the merger or acquisition.
The current market prices of the target and acquiring company's stock are compared along with their respective financial situations.
A ratio is when configured which states the rate at which the target company's shareholders will receive acquiring company shares of stock for every one share of target company stock they currently hold.
15.RBI capped Rs 50,000 as withdrawal limit of YES Bank customers: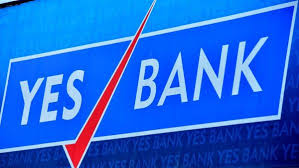 The Reserve Bank of India imposed a month-long moratorium.
Also, the Apex Bank has imposed withdrawal restrictions of Rs 50,000 to the customers.
However, in case of medical emergencies and higher education fees, the restriction has been increased to Rs 5 lakhs.
The Reserve Bank has taken actions as the Yes Bank is currently unable to raise funds that will help against loan losses. RBI has selected SBI (The State Bank of India) to inject capital into Yes Bank.
SBI is to conduct viability assessment in buying stakes at Yes Bank.
Moratorium:
The moratorium is a temporary suspension of an activity or business.
Though RBI has powers to impose restrictions on the financial activities of banks in India, it has no powers to impose a moratorium.
The moratorium has been imposed on the bank by GoI under the recommendation of RBI.
Other important current affairs:
1. The Union Cabinet has decided to allow Non-Resident Indians (NRIs) who are Indian nationals to own up to 100% stake of Air India.
The FDI (foreign direct investment) policy would be amended to allow NRIs who are Indian nationals to own up to 100% of Air India 'under the automatic route.'
The government is in the process of selling Air India, having invited preliminary bids recently.
2. Recently, the Minister of Human Resource Development informed about the implementation of the Jeevan Kaushal (life skills) curriculum in a written reply in the Lok Sabha.
The University Grants Commission (UGC) has developed life skills (Jeevan Kaushal) curriculum for undergraduate students at Universities and Colleges.
It covers the courses on communication skills, professional skills, leadership & management skills and universal human values.
The implementation of the curriculum is suggestive.
3. Violinist and music composer L. Subramaniam has been selected for the Swathi music award for 2017 instituted by the Kerala government.
The award comprises a cash prize of ₹2,00,000, a citation and a statuette.
Subramaniam has been chosen for the award for his versatility spanning the Carnatic and western music genres and his techniques and compositions in orchestral fusion.
4. The Jammu airport security was taken over by the Central Industrial Security Force (CISF). With this, there are 63 airports under CISF at present.
The CISF is responsible for airport security at all commercial airports in India.
Earlier the airports were under the control of airport police. However, after the hijack of Indian Airlines Flight 814 in 1999, it was handed over to CISF.
Jaipur airport was the first airport to come under CISF control.
5. Deendayal Antyodaya Yojana-National Urban Livelihoods Mission (DAY-NULM) has signed MoU with Amazon to e-market products made by self-help groups in India.
The MoU has been signed as a part of the Women's Day celebration. Every year March 8 is celebrated as International Women's Day.
The women entrepreneurs in E-Commerce platform has been growing substantially.
The MoU will help to empower these women entrepreneurs.
The Agreement is a key initiative for the second edition of Shehri Samridhi Utsav to be organized between March 28, 2020, and April 12, 2020.
6. The world's largest oil-producing nations of OPEC (Organization of Petroleum Exporting Countries) have planned to cut production. This is the deepest oil production cut since the 2008 financial crisis.
The major member of OPEC, Saudi Arabia has planned to cut production by 1.5 million barrel a day from April 2020. This is equivalent to holding back 3.6% of global oil supplies.
The cuts are being made to avoid oil prices from collapsing.
OPEC has taken this decision predicting a decline in demand for oil due to Corona Virus and its impact all over the world.
When the demand decreases and supply is maintained at the same level, prices will reduce as the availability of oil will increase.
Therefore, OPEC is cutting the supply.
7. Janez Jansa becomes new Prime Minister of Slovenia
Leader of Slovenian Democratic Party, Janez Jansa becomes the Prime Minister of Slovenia.
He will replace centre-left Prime Minister Marjan Sarec, who resigned from his post in January 2020.
Previously Jansa led the Slovenian government from 2004 to 2008 and from 2012 to 2013.
8. Fourth Global Ayurveda Festival to be held in Kochi, Kerela
The 4th edition of Global Ayurveda Festival (GAF) will be held at Kochi, Kerala from 16th to 20th May.
The theme for the five-day event will be "Ayurveda Medical Tourism: Actualizing India's credibility".
GAF-2020 will bring together the world of Ayurveda wellness providers and it's seekers to one platform.
9. Union Minister for Women and Child Development Smriti Zubin Irani has released a book titled "Chronicles of Change Champions" in New Delhi.
The book is a compilation of 25 innovative initiatives flagship scheme of Beti Bachao, Beti Padhao.
Beti Bachao, Beti Padhao scheme was launched in 2015 at Panipat, Haryana as a comprehensive programme to address the declining Child Sex Ratio and the related issues of empowerment of women over a life-cycle continuum.
10. Three days 'Namaste Orchha' festival begins
'Namaste Orchha' festival has begun in Orchha, Madhya Pradesh which is a famous tourist destination of the state.
​Namaste Orchha festival will showcase the cultural landscape of Madhya Pradesh through a range of activities like art, music, dance, guided history tours and photography along with a business meet and Kisan Mela.
The festival will also feature a food and crafts bazaar that will have local cuisine and traditional handicrafts of the region.
11. The biggest and most joyful spring festival of Mizos, Chapchar Kut is being celebrated across the state.
The festival is a public holiday in the state.
Traditional bamboo dance, Cheraw and other dances were performed at the main event, attracting thousands of people.
12. Times of India Sports Awards (TOISA) 2019 held in New Delhi.
Times of India Sports Awards (TOISA) 2019 powered by BHIM-UPI which honoured the best sports performance in 2019 held in New Delhi.
Shuttler PV Sindhu was named Sportsperson of the Year at the fourth TOISA 2019 in New Delhi.
Former India football captain Bhaichung Bhutia was given the Lifetime Achievement award.
Pulella Gopichand, Jaspal Rana, Amit Phanghal, Lovlina Borgohain, and Balbir Singh were among the other winners.