18th Meeting Of The Chief Justices/Chairpersons Of The Supreme Courts Of The Shanghai Cooperation Organisation (SCO) Member States: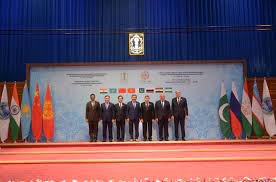 The Chief Justice of India (CJI) recently addressed the 18th meeting of the Chief Justices/Chairpersons of the Supreme Courts of the Shanghai Cooperation Organisation (SCO) member states.
The conference provided an opportunity for member and observer states to reflect upon the challenges that are common to their jurisdictions and emphasised the need for mutual cooperation and sharing of experiences and wisdom gathered.
The CJI highlighted the need for judicial cooperation and adoption of new mechanisms to simplify and make the court processes more smart and accessible to the common people.
The CJI also stressed the importance of technology in bridging the gap between citizens and the justice system.
The CJI shared recent endeavours made by the Supreme Court of India, such as launching an e-version of Supreme Court reports, artificial intelligence-based live transcription of court proceedings, and translation of judgments in multiple regional languages, among others.
Also, various issues such as the overly populated prisons, access to quality legal representation, modern public judicial services, court work overload, limited judicial resources, high pendency of cases, and the need for adequate infrastructure facilities were highlighted.
SCO:
The SCO is a regional intergovernmental organisation that promotes cooperation between its member states in the areas of security, economy, and culture.