Shanghai Cooperation Organisation (SCO):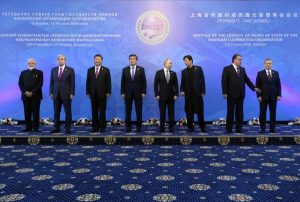 National Security Advisor Ajit Doval has proposed an action plan against Pakistan-based terror groups Lashkar-e-Taiba (LeT) and Jaish-e-Mohammad (JeM) as part of the Shanghai Cooperation Organisation (SCO) NSAs meet.
LeT and JeM have been responsible for many terror attacks in India, especially in the Union Territory of Jammu and Kashmir.
JeM, created with the support of the Pakistan spy agency, was responsible for the Pulwama terror attack in which 40 Indian soldiers died.
Full implementation of UN resolutions and targeted sanctions against UN-designated terrorist individuals and entities.
Adoption of international standards to counter terror financing including an MOU between SCO and Financial Action Task Force (FATF).
Monitoring new technologies used by terrorists. This included use of drones and misuse of dark web, artificial intelligence, blockchain and social media.
About the Shanghai Cooperation Organisation (SCO):
It is a permanent intergovernmental international organisation.
It's creation was announced on 15 June 2001 in Shanghai (China) by the Republic of Kazakhstan, the People's Republic of China, the Kyrgyz Republic, the Russian Federation, the Republic of Tajikistan, and the Republic of Uzbekistan.