2021 World Food Prize: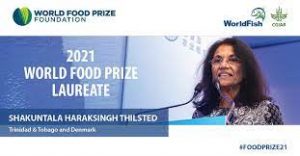 Dr. Shakuntala Haraksingh Thilsted, a global nutrition expert of Indian descent has won the prestigious 2021 World Food Prize for her groundbreaking research in developing holistic, nutrition-sensitive approaches to aquaculture and food systems.
Shakuntala Haraksingh Thilsted:
Thilsted's trailblazing research on small native fish species in Bangladesh led to the development of nutrition-sensitive approaches to aquatic food systems at all levels, from the farm to food processing to final consumers, resulting in improved diets for millions of the most vulnerable people in Asia and Africa.
Thilsted, who is a native of Trinidad and Tobago and a citizen of Denmark, was born in 1949 in the Caribbean island of Trinidad in the small village of Reform. Most of the inhabitants, including her family, were descendants of Indian Hindu migrants brought to Trinidad to engage in agricultural labour.
World Food Prize:
The World Food Prize recognizes the achievements of individuals who have advanced human development by improving the quality, quantity, or availability of food in the world.
It recognizes contributions in any field involved in the world food supply such as plant, animal and soil science; nutrition; rural development; marketing; food processing and packaging; water and the environment; physical infrastructure; policy analysis, etc.
The prize is open to every individual without regard to race, religion, nationality, or political beliefs.
Presented by: World Food Prize Foundation, with various sponsor companies.
The prize was conceived by Dr. Norman E. Borlaug, winner of the Nobel Peace Prize in 1970 for his work in global agriculture.
The Prize was created in 1986 and was first awarded in 1987 with M. S. Swaminathan of India being the first recipient.
Ceremony: The annual award is presented each October on or around UN World Food Day (October 16).
Cash prize: In addition to the cash award of $250,000, the Laureate receives a sculpture designed by the noted artist and designer, Saul Bass.