Raigad Fort: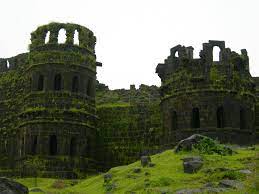 President Ram Nath Kovind recently visited Raigad Fort and paid tribute to Chhatrapati Shivaji Maharaj.
The fort, which was earlier called Rairi, was the seat of the Maratha clan Shirke in the 12th century.
The fort changed hands a number of times from the dynasty of Bahaminis to the Nizamshahis and then the Adilshahis.
In 1656, Chhatrapati Shivaji captured it from the More's of Javli who were under the suzerainty of the Adilshahi Sultanate.
In 1662, Shivaji formally changed the fort's name to Raigad and added a number of structures to it. By 1664, the fort had emerged as the seat of Shivaji's government.
The fort not only helped Shivaji challenge the supremacy of the Adilshahi dynasty but also opened up the routes towards Konkan for the extension of his power.
The fort was known to early Europeans as the Gibraltar of the East. Its decisive feature is a mile and a half flat top which has adequate room for buildings. In its prime, the fort had 300 stone houses and a garrison of 2,000 men.
Chhatrapati Shivaji is the tallest and the most revered icon in Maharashtra and there is a constant attempt by political parties of all hues to appropriate his legacy.
Due to the significance of Raigad in his life, many political leaders make it a point to visit the fort.