25th National Conference On e-Governance: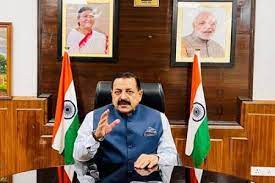 Union Minister Dr Jitendra Singh to inaugurate the 25th National Conference on e-Governance (NCeG) to be held in Katra, Jammu & Kashmir on 26th November, 2022.
Theme: "Bringing citizens, industry and government closer".
Presented by: Department of Administrative reforms & Public Grievances (DAR&PG) presents National Awards every year during National conference on e-Governance.
Objective: To recognize and promote Excellence in implementation of e-Governance initiatives.
The Award recognizes some of the best Government to Government (G to G), Government to Citizen (G to C), Government to Business (G to B) initiatives taken by government departments.
It also recognizes initiatives in Start-ups, Academic Research Institutions as well as initiatives in adopting emerging technologies.
It will be presented under 5 categories of the NAeG Scheme – 2022 to 18 e-Governance initiatives at Central, State and District levels, Academic & Research Institutions and Public Sector Undertaking.
This includes 9 Gold and 9 Silver Awards.