2nd Edition Of The Social Trailblazer Program: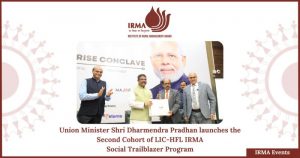 The Union Minister of Skill Development & Entrepreneurship, while addressing a Social Enterprise Conclave organized by Institute of Rural Management, Anand (IRMA) in partnership with LIC Housing Finance Limited has launched the 2nd edition of the Social Trailblazer Program, aiming to boost the Social Entrepreneurship Ecosystem in India.
Social Trailblazer is a programme for Social Enterprises and Entrepreneurs Development, which nurtures early-stage rural, social, and collective enterprises.
The program aims to nurture the evolving ecosystem of Indian Social Enterprises.
The goal is to promote the Social Enterprise programme so as to promote the development of social enterprise and social investment to help address entrenched social and environmental problems.
Social Entrepreneurship is the practice of using business models to address social and environmental problems.
Social entrepreneurs, also known as social innovators, bring about positive change through innovative ideas.
They aim to create social impact while also generating revenue and profits.
They identify problems and create solutions to make a difference. Social entrepreneurship aligns with trends like Socially Responsible Investment and Environment, Social and Governance (ESG) investing.