Fourth Asia Ministerial Conference On Tiger Conservation: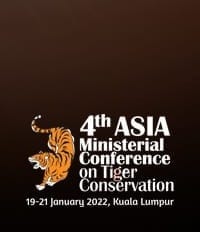 Minister for Environment, Forest and Climate Change, Bhupender Yadav delivers India's statement at the Fourth Asia Ministerial Conference on Tiger Conservation, an important event for reviewing progress towards the Global Tiger Recovery Programme and commitments to tiger conservation.
The Government of Malaysia and Global Tiger Forum (GTF) organized the 4th Asia Ministerial Conference on tiger conservation.
India is one of the Founding members of the intergovernmental platform of Tiger Range Countries – Global Tiger Forum.
He appreciated the efforts of the Government of Malaysia in creating a role model for mitigation measures with respect to linear infrastructure in tiger habitat, in the form of "Central Spine and landscape level planning.
The Minister said that India will facilitate Tiger Range Countries towards finalisation of New Delhi declaration for the Global Tiger Summit to be held at Vladivostok, Russia later this year.
A "Pre-Tiger Summit" meeting was held at New Delhi in 2010, wherein the draft declaration on tiger conservation for Global Tiger Summit was finalised.
India has achieved the remarkable feat of doubling the tiger population in 2018 itself, 4 years ahead of the targeted year 2022.
He informed that the model of success of India's tiger governance is now being replicated for other wildlife like the Lion, Dolphin, Leopard, Snow Leopard and other small wild cats, while the country is on the threshold of introducing Cheetah in its historical range.
The budgetary allocation for tiger conservation has increased from Rs 185 crore in 2014 to Rs 300 crore in 2022 and informed that 14 Tiger Reserves in India have already been awarded with international CA|TS accreditation and efforts are on to bring in more Tiger Reserves under CA|TS accreditation.