New Prime Minister Of Thailand : Srettha Thavisin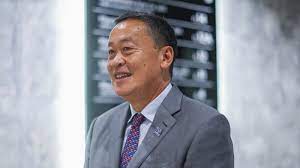 Srettha Thavisin, formerly the chief of a prominent real estate development firm in Thailand, has become the country's prime minister amidst a political deadlock following recent elections
Thavisin's win was backed by pro-military members of parliament, forming a tactical alliance that sidelined the progressive Move Forward Party.
He co-founded Sansiri, a major property development company, and his election led to a stock surge for the company. Thavisin's political inexperience presents both opportunities and challenges in his new role.
Thavisin's ascension followed a parliamentary vote amidst a political deadlock following recent elections.
His unexpected rise coincided with the return of Thaksin Shinawatra, founder of the Pheu Thai Party, after years of exile.