Turkmenistan's Gateway To Hell: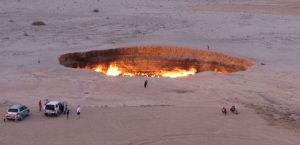 Turkmenistan's President Gurbanguly Berdymukhamedov recently ordered officials to find a method of finally extinguishing the 'Gateway to Hell' in the country.
Turkmenistan's Gateway to hell, also known as The Darvaza Crater, is 225 feet wide and 99 feet deep. It has a diameter of 70 metres, across an area of 5.5 square metres.
It is a natural gas field collapsed into a cavern near Darvaza in Turkmenistan.
It is the raging flames, burning for five decades in a large natural gas crater.
It is believed that, in 1971, a simple miscalculation by Soviet scientists led to the creation of this crater.
The Soviet scientists had underestimated the amount of fuel laying below. Their boring equipment drilled through an underground cavern.
Because of this, a deep sinkhole was created.
After the gas driller fell into the pit, scientists were concerned that the crater would release noxious gases.
Toxic methane gas had already started leaking into the atmosphere.
Thus, in order to stop the methane from reaching neighbouring areas and causing damage to the environment & living organisms, scientists decided to set the crater ablaze.