4th India-CARICOM Ministerial Meeting: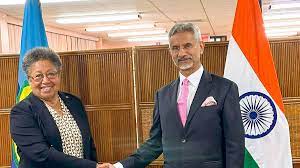 India's External Affairs Minister co-chaired the 4th India-CARICOM ministerial meeting with his Jamaican counterpart.
CARICOM, which stands for Caribbean Community, is the oldest surviving integration movement in the developing world.
It is an organization of Caribbean countries and dependencies originally established as the Caribbean Community and
Commons Market in 1973 by the Treaty of Chaguaramas.
Main Purposes is to Promote economic integration and cooperation among its members;

To ensure that the benefits of integration are equitably shared;
To coordinate foreign policy;

It has 15 members; Antigua and Barbuda, The Bahamas, Barbados, Belize, Dominica, Grenada, Guyana, Haiti, Jamaica, Montserrat, Saint Kitts and Nevis, Saint Lucia, Saint Vincent and the Grenadines, Suriname, and Trinidad and Tobago.
Anguilla, Bermuda, the British Virgin Islands, the Cayman Islands, and the Turks and Caicos Islands have associate member status, and Aruba, Colombia, the Dominican Republic, Mexico, Puerto Rico, and Venezuela maintain observer status.
The Chairmanship of the Community is rotated every six months among the member countries' Heads.
The CARICOM Secretariat in Georgetown, Guyana, is the principal administrative organ of the Community and is headed by a Secretary General who is the Chief Executive Officer of the Community.
In 2007, CARICOM officially inaugurated the Caribbean Court of Justice (CCJ), which serves as the final court of appeal for CARICOM members and also handles regional trade disputes.