56th Session Of UN's Commission On Population And Development: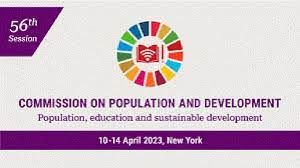 In 56th session of UN's Commission on Population and Development,held at New York, deputy Secretary-General warned that the goal of achieving quality education for all by 2030 is "seriously off track".
Currently around 263 million children and young people are out of school in the world.
Nearly 70 % of children in poorer countries cannot understand a basic text by age 10, mainly due to chronic factors such as poverty and malnutrition.
The situation of women and girls in Afghanistan is severe where they have been banned from high school and university.
Comprehensive sexuality education (CSE) empowers girls to avoid unintended pregnancies and encourages both genders to stay in school, among other benefits.
Most of countries are facing "a triple crisis in education – one of equity and inclusion, quality and relevance, to equip current and future generations with the skills they need to thrive in a fast-changing world."
UN Commission on Population and Development:
A Population Commission was established by the Economic and Social Council (ECOSOC) in 1946, which was renamed as the Commission on Population and Development by the General Assembly in 1994.
The Commission is composed of 47 Member countries.