5th International Marine Protected Areas Congress: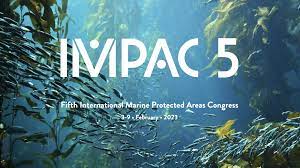 The 5th International Marine Protected Areas Congress (IMPAC5) was held in Canada in order to discuss the solutions to address the Funding Gap of Marine Protected Areas (MPAs).
This meeting is crucial since nations agreed to protect 30% of Earh's lands and oceans by 2030 at the 15th Conference of the Parties to the Convention on Biological Diversity held in 2022.
Highlights of the Meet:
As many as 70% of MPAs are underfunded. A well-managed and sufficiently funded MPA can restore good health to vulnerable ecosystems.
Achieving sustainable and resilient MPA networks depends on an overall commitment to protection, leadership, engagement from stakeholders, institutions, governments and organizations, Indigenous peoples, coastal communities, and individuals in an inclusive and equitable manner to advance ocean protection.
IMPAC5 aims to provide a forum for sharing knowledge, successes and best practices in an open and respectful environment for the exchanging of ideas among a diversity of views.
IMPAC:
IMPAC congresses are a collaborative effort between the International Union for the Conservation of Nature (IUCN) and the chosen host country.
The congress brings together scientists, policy makers, practitioners, and stakeholders from around the world to discuss the latest scientific knowledge, best practices and challenges in the management of MPAs.