Vikas Engine : ISRO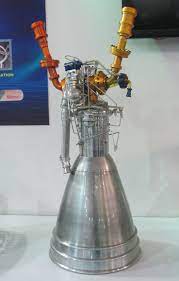 The Indian Space Research Organisation (ISRO) has successfully tested the throttling of Vikas, its workhorse launch-vehicle engine.
VIKAS (an acronym for Vikram Ambalal Sarabhai) engine is a family of liquid-fuelled rocket engines conceptualized and designed by the Liquid Propulsion Systems Centre of ISRO in the 1970s.
The early productions involved imported French components, which were later replaced by domestically produced equivalents.
These engines are deployed for ISRO's Polar Satellite Launch Vehicle (PSLV) and the Geosynchronous Satellite Launch Vehicle (GSLV) series of expendable launch vehicles for space launch use.
The fuel load of the Vikas engine is 40 tonnes for the PSLV, GSLV Mark I and II, and 55 tonnes for the GSLV Mark III.
Liquid Propulsion Systems Centre (LPSC) is a research and development center functioning under ISRO.