Painted Bat : Key Facts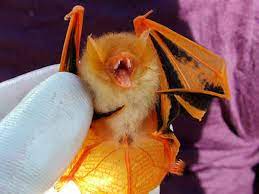 A rare orange-coloured bat, also known as 'painted bat' was spotted at a banana plantation in Parali Bodal village of Chhattisgarh's Kanger Valley National Park in Bastar.
Painted bat are often found in unusual roosting sites such as suspended nests of weaver finches and sunbirds, and banana leaves, these bats have been known to roost in pairs.
It is an aerial hawker, catching insects mid-flight.
It is generally found in Bangladesh, Brunei, Burma, Cambodia, China, Indonesia, Malaysia, Nepal, Sri Lanka, Thailand and Vietnam.
Conservation status:
Kanger Valley/ Ghati National Park:
This National Park derived its name from the Kangar river, which flows in its length.
This park is a typically mixed humid deciduous type of forest, in which the Sal, Saugaun, teak and bamboo trees are available in abundance.
The most popular species in this area is Bastar Maina which emulates everyone with its human voice.