What Is Hybrid Immunity?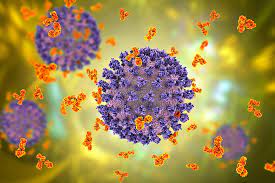 Study in the journal The Lancet Infectious Diseases held that "hybrid immunity" provides better protection against severe Covid-19, while all immunity against a re-infection wane within a few months.
The study is based on a meta-analysis of 11 other studies on the protective effectiveness of previous SARS-CoV-2 (Covid) infection and 15 studies on the protective effectiveness of hybrid immunity.
Hybrid immunity from an infection is a combination of natural protection along with the immunity provided by the vaccine.
It appears to result in stronger protection than just infection or vaccination alone.
In the case of Covid-19, hybrid immunity is when someone recovers from a Covid infection before getting vaccinated.
A hybrid immunity offers a "higher magnitude and durability" of protection as compared to infection alone, emphasizing the need for vaccination
However, with the faster-spreading omicron variants leading to more infections and consequently more people developing this hybrid immunity.
Efficacy of Hybrid Immunity : Protection against severe disease and hospitalisations from a Sars-CoV-2 infection alone was found to be 82.5% at three months after the last shot or infection.
This protection stood at 74.6% at 12 months and 71.6% at 15 months.
Protection against reinfection declined faster, standing at 65.2% at three months and dropping to 24.7% at 12 months and 15.5% at 15 months.
It can be used to tailor guidance on the number and timing of SARS-CoV-2 vaccinations.
It said that in regions with high Sars-CoV-2 sero-prevalence, the primary vaccination – focused mainly on those at the highest risk of severe disease such as the old or co-morbid – can offer high protection against severe disease and hospitalisation for at least one year.