Abhilasha Barak : First Woman Combat Pilot Of Army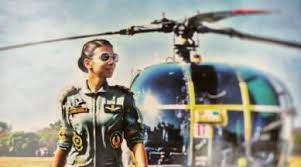 Captain Abhilasha Barak has become the first woman to join the Army Aviation Corps as combat aviator after completion of a six-month combat Army aviation course.
She has been awarded the coveted wings along with 36 Army pilots during a valedictory ceremony at the Combat Army Aviation Training School, Nashik.
Barak hails from Haryana and was commissioned into the Army Air Defence Corps in September 2018.
The Army Aviation Corps, the youngest Corps of the Army, was formed on November 1, 1986 and over the years, has expanded with addition of new units and equipment such as Cheetah and the advanced light helicopter Dhruv, weaponised Rudra and the light combat helicopter.
In August 2021, Army Aviation got control of the unmanned aerial vehicles (UAV), which were earlier with the Artillery, bringing all aviation assets under one roof.