Active Pharmaceutical Ingredients: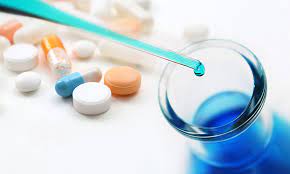 Union Health Minister recently said that India has started manufacturing 38 active pharmaceutical ingredients, or APIs, in the last one and a half years.
Active Pharmaceutical Ingredients (APIs) are the active components in a pharmaceutical drug that produces the required effect on the body to treat a condition.
APIs are produced by processing chemical compounds.
In a biologic drug, the active ingredient is known as a bulk process intermediate (BPI).
APIs are the key active components that interact with specific receptors or target molecules in the body to bring about the desired physiological or therapeutic response
All drugs are made up of two core components: (1) Active Pharmaceutical Ingredient (API), which is the central ingredient, and (2) excipients.
Excipients

are substances other than the drug that helps deliver the medication to your system.

Excipients are chemically inactive substances, such as lactose or mineral oil.
Some of these materials are used to help the medication remain stable and to control absorption when you take the drug.