Broadcast Seva Portal: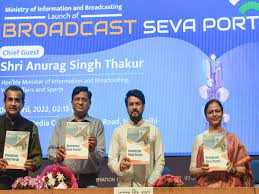 The Ministry of Information and Broadcasting has launched the Broadcast Seva (BS) Portal.
The portal is likely to help 900 satellite TV channels, 70 teleport operators, 1,700 MSOs, 350 Community Radio Stations (CRS) and 380 private FM channels, among others.
It is a 360 degree digital solution that will facilitate stakeholders in seeking permissions, applying for registration, tracking applications, calculating fees and executing payments.
This portal will provide its services under the wider umbrella efforts of Digital India to all stakeholders to private satellite TV channels, teleport operators, Multi-Service Operators (MSOs), community and private radio channels, etc.
Objective: To provide a single point facility to the stakeholders and applicants to apply for various registrations, permissions and licences issued by I&B Ministry for broadcast related activities.
It will reduce the turnaround time of applications and, at the same time, will help applicants track the progress.
Improving India's business climate is one of the key focus areas of the Government of India and the Broadcast Seva Portal exemplifies the government's commitment to ease of doing business and empowering the broadcasting sector.
The portal will enable establishment of an efficient and transparent system for the growth and management of the Broadcast sector.
It is in line with the vision of promoting Make in India and Digital India initiatives.