Industrial Corridors Scheme: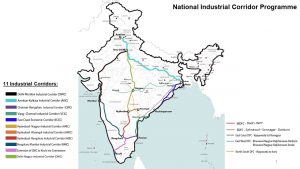 The Asian Development Bank (ADB) and the Government of India signed a USD 484 million loan for the Tamil Nadu Industrial Connectivity Project.
The loan is to improve transport connectivity and facilitate industrial development in the Chennai – Kanyakumari Industrial Corridor (CKIC) in the state of Tamil Nadu.
The loan is in line with Strategy 2030, ADB's long-term corporate strategy, the project emphasises sustainability, climate change resilience, and road safety elements.
Under Strategy 2030, ADB will expand its vision to achieve a prosperous, inclusive, resilient, and sustainable Asia and the Pacific, while sustaining its efforts to eradicate extreme poverty.
CKIC is part of India's East Coast Economic Corridor (ECEC).
Industrial Corridors Scheme:
An industrial corridor is an economic ecosystem built around a transportation corridor connecting two major economic centers, where the transportation corridor serves as the nerve center of the economic activity across the corridor.
In addition to the transportation corridor, a well-designed industrial corridor contains clusters of industrial production serving regional and global demand, and urban centers proliferating equitable development.
In 2019, the government approved the development of the five industrial corridor projects, being implemented through National Industrial Corridor Development and Implementation Trust (NICDIT).
NICDIT is an apex body under the administrative control of the Department for Promotion of Industry and Internal Trade (DPIIT), Ministry of Commerce and Industry.