AK-203 Assault Rifles: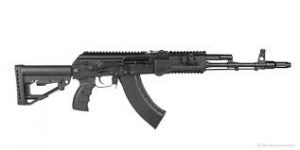 The production of the AK-203 assault rifles by the Indo-Russian joint venture at Amethi, Uttar Pradesh, is set to begin by year-end and the manufacturing equipment required for it will be dispatched from Russia shortly, according to a senior official of Kalashnikov, the Russian company which manufactures the rifles.
The production was originally scheduled to begin early this year.
As per the contract, over 6.1 lakh AK-203 assault rifles costing over ₹5,000 crore will be manufactured by a Joint Venture, Indo-Russian Rifles Private Ltd (IRRPL), at Korwa, Amethi in Uttar Pradesh.
IRRPL was set up jointly between erstwhile OFB [now Advanced Weapons and Equipment India Limited (AWEIL) and Munitions India Limited (MIL)] of India and Rosoboronexport (RoE) and concern Kalashnikov of Russia.
As per contractual terms, first 70,000 AK-203 rifles will be produced in India with a phased increase in the extent of localisation from 5% to 70%.
The remaining rifles will be produced with 100% localisation.