AK-203 Assault Rifles: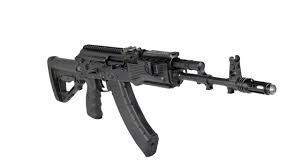 India has finally signed a deal with Russia for the procurement of 70,000 AK-203 assault rifles to be bought off the shelf.
The development happens in spite of the joint venture of both the countries to manufacture 7.5 lakh AK-203 rifles in India. Reportedly, the deliveries would begin within three months and be completed in six months.
AK-203 assault rifle is considered to be the latest and most advanced version of the AK-47 rifle. It is a 7.62×39mm variant from the AK-100 rifle family (one that offers the AK-74M system, in multiple cartridges and lengths).
This variant is expected to replace the Indian Small Arms System (INSAS) 5.56×45 mm assault rifle, that are presently being used by Army, Navy and the Air Force besides other security forces.
This variant is an advanced version of AK-47 and its magazine can hold 30 bullets.
Unlike the INSAS rifles, these rifles never get jammed as these belong to AK series.
These rifles are a type of Kalashnikov rifles, which can work under extreme climatic conditions and are effective even in sand, soil and water.