Albino Indian Flapshell Turtle: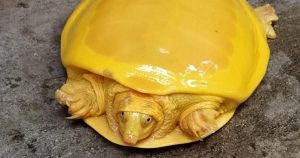 A rare species of Albino Indian Flapshell turtle was recently sighted by Mountaineers in Sirnapalli forest in Telangana's Nizamabad.
The Indian flapshell turtle is commonly found in South Asian countries like Pakistan, Sri Lanka, India, Nepal, Bangladesh and Myanmar.
The rare yellow color of the turtle may be due to the lack of a pigment called tyrosine present in high amounts in reptiles.
A genetic mutation or possible congenital disorder is likely responsible for the lack of tyrosine.
Indian flapshell turtles are typically are only 9 to 14 inches (22 centimeters to 35 centimeters) long, and like to eat frogs, snails and aquatic vegetation.
Conservation Status:

IUCN Red List: Vulnerable.
CITES: Appendix II.
Wildlife (Protection) Act, 1972: Schedule I.