Amrit Samagam : Conference Of Tourism And Culture Ministers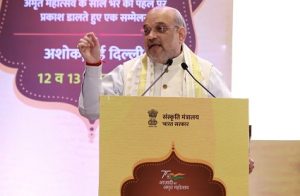 The Amrit Samagam, a summit of the country's cultural and tourism ministers was launched by Union Minister of Home Affairs, Amit Shah. This summit was launched in New Delhi.
This is a two-day conference that was hosted by the Ministry of Culture on 12th and 13th April 2022, as part of the Azadi ka Amrit Mahotsav (AKAM).
The conference's goal is to discuss the progress of the Azadi ka Amrit Mahotsav.
The topics of discussion at this conference included landmark initiatives of AKAM like Swatantra Swar, Har Ghar Jhanda, Digital District Repository, and Mera Gaon Meri Dharohar.
Also, in this conference, the Ministry of Tourism focused on the significant contributions made by the organization to the AKAM campaign.
The Utsav Portal website was launched by G. Kishan Reddy, Union Minister for Tourism, Culture, and DONER during this conference.
It is a Ministry of Tourism's digital initiative that will be used to showcase all festivals, events, and live darshans across the country with the aim of promoting different regions of India as popular tourist destinations across the world.
Har Ghar Jhanda:This initiative was implemented by the National Implementation Committee from 11th to 15th August 2022 with the aim of encouraging citizens of India, institutions, and organizations to hoist the country's National Flag on their premises.
The purpose of this initiative was to create a repository of data and store them in one place.
The Azadi Ka Amrit Mahotsav mobile App was launched by the Ministry of Culture so that the users can access all information that is related to India's 75th independence anniversary celebrations.
Swatantra Swar: This initiative highlighted all the writings that were banned during the British Raj. Under this initiative, the banned writings were recited by prominent personalities in different languages like Bengali, Hindi, Gujarati, Marathi, Odia, Kannada, Sindhi, Punjabi, Telugu, Tamil, and Urdu.
Mera Gaon Meri Dharohar: This initiative was launched by the Ministry of Culture partnering with the Common Services Centres (CSC). Under this initiative, the cultural identity of the country's villages is being promoted.